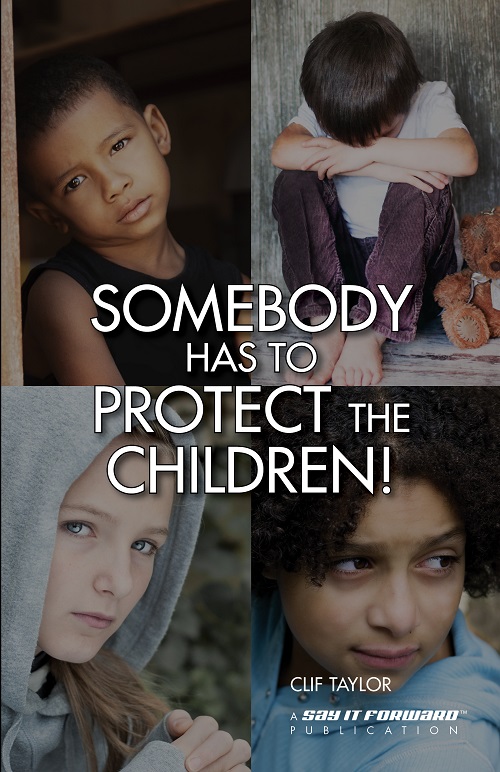 If there's one thing parents of young children constantly live in fear of, it's the possibility their kids could be victimized by a child predator.
Despite these concerns, studies show the United States has one of the worst records among industrialized nations for keeping children safe from abuse.
A new book written by mindfulness author Clif Taylor titled "Somebody Has to Protect the Children" gives you a step-by-step guide to reversing child sexual abuse statistics and helps you, along with other parents, guardians, teachers, coaches, mentors, and counselors keep kids safe.
Order your book now, at https://www.cliftaylor.com/product/somebody-has-to-protect-the-children-pdf
"Somebody Has to Protect the Children" is the first book in Clif's VSC - Victim, Survivor, Conqueror- initiative, a series that introduces you to a proprietary 3-step process that helps those who've experienced violence, tragedy or trauma move through the immediate effects of Victimization toward becoming a Survivor, and ultimately a Conqueror.
Did you know the WHO reports close to 1 billion children globally, aged 2 - 17, have experienced physical, sexual, or emotional violence or neglect in the past year? If this concerns you, you have an opportunity to forge meaningful change.
Experts say that managing and overcoming the emotional effects of sexual assault and trauma begin with the belief in one's own power to heal. Clif's new book helps advance this knowledge.
Moving away from the genre he's best known for - books such as "You Are," "Match," "Snowflake," and "Oak Tree" that celebrate beauty, and joy - Clif was motivated to write a "disruptive" book rooted in advocacy.
"Somebody Has to Protect the Children" is a result of the mindfulness technique Clear, Calm and Open, a method Clif developed close to 20 years ago to help his readers enhance their physical, mental, emotional, and spiritual wellness.
Clif says, "It's important to me that every child experiences the blessings of life that surround them every day. That's why CSP's children's books share messages of love, beauty, and inclusion. Somebody Has to Protect the Children is my way of asking all adults to help children experience the beauty of life safely and without the threat of being victimized."
Connected Spirit Publications is a collaborative venture founded in association with Gold Leaf Press in 2006 as a publishing house for Clif's first hit book "Connect."
With the launch of his newest book "Somebody Has to Protect the Children," Clif and his partnering company are hoping to help you take the first step in creating safer, more resilient environments so that kids can simply be kids.
Are you ready to become a leader in the protection of children? Visit https://www.cliftaylor.com to purchase a digital edition of "Somebody Has to Protect the Children," and to discover more from Connected Spirit Publications.