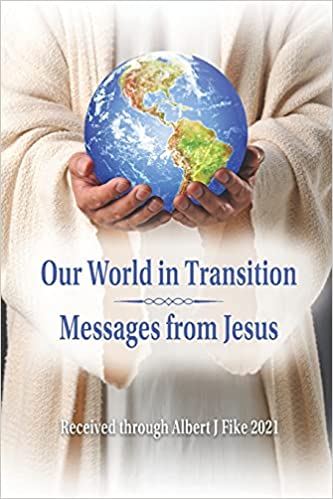 Our world has been undergoing, and continues to undergo, massive change on several fronts – social, cultural, economic, and spiritual. If the events of the last 2 years have left you feeling perplexed and hopeless, know that spiritual guidance is available in a new book: "Our World in Transition, Messages from Jesus".
In the book's 20 lessons, recorded over a 6-month period, author Albert J. Fike elaborates on Jesus's messages for humanity in these troubled times, which encourage you to come to an understanding of your true natures as a spiritual being.
You can find more information about the new book at https://www.divinelovesanctuary.com
Fike's most recent publication conveys the urgent message that we are in for difficult times because everyone now alive will be affected by the environmental, political, and economic turbulence currently changing the planet.
Although this message may seem unsettling, Fike stresses that Jesus ultimately insists peace and calm will prevail after the period of turmoil. We will begin to embody the utopian ideals that have been historically venerated, but this cannot be done unless we first undergo an ordeal to awaken and shift our perspective toward our true purpose.
In this same spirit of awakening, the book aims to both provoke and educate you through its revelations. Its teachings derive from Jesus's timeless wisdom, but Fike adapts them to the thought forms and speech of the contemporary world. The book manages to synthesize and distill the best of today's spiritual philosophies in a way that is highly engaging and easily digestible in printed form. Regardless of whether you believe the message has been truly delivered by Jesus or not, what Fike conveys is deserving of your serious consideration.
Albert J. Fike has authored several books on spirituality over the past decade. He is a retired landscape gardener now living on the West Coast of Canada with his wife, Jeanne. The couple has traveled globally to conduct spiritual retreats and workshops. The Fikes are also the founders of the Divine Love Sanctuary Foundation of British Columbia.
A satisfied reader said, "This is a magnificent book, filled with wondrous teachings to serve as a powerful guide for present-day living. Each page uplifts the reader and reaffirms the power of prayer to create an intimate relationship with God. This book is a must-read for everyone during these turbulent times!"
If we don't come to a clearer understanding of deep spiritual truths, this time of difficult transition will be more difficult than it needs to be. The new book provides you with that understanding by explaining the healing power of love and how each of us contains vast hidden resources to transform ourselves and our world.
Find out more about the book at https://www.divinelovesanctuary.com and learn how you can prepare for the new world that awaits humanity on the other side of our current problems.