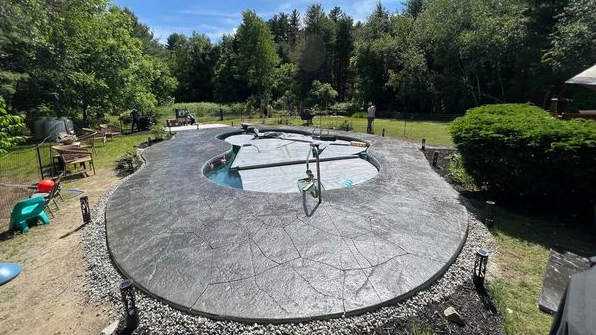 When concrete isn't laid properly, the poor results will stand for a long time. That's why it's important to get your project done by those who know their business. In Nashua, that's Foundational Concrete Services. Contact these pros for complete concrete craftsmanship!
Their top-rated services include concrete resurfacing or stamping and concrete slab contract work. Foundational Concrete Services is able to offer finishes ranging from broom to natural stone and New England ashlar slate, providing you with choices compatible with a variety of swimming pool exteriors, patios, driveways, and more.
Click https://foundational-concrete-services.business.site/ now!
With its concrete options, Foundational Concrete Services aims to improve access throughout its Nashua community to customized work for residential and commercial purposes. Its team of contractors design their services to meet high aesthetic standards while achieving a traditional or modern look in line with your desired theme.
Through on-site consultations, Foundational Concrete Services' team is equipped to provide advice on facilitating proper drainage and maintaining your project's condition on a long-term basis.
On this subject, a company spokesperson said: "At Foundational Concrete Services, we can provide you with the expertise and materials to ensure a high-quality stamped concrete patio. For optimal durability in regions with freezing and thawing cycles, we recommend excavating six inches deep and placing a layer of crushed rock beneath the four inches of concrete."
Foundational Concrete Services specializes in revitalizing your outdoor living spaces via the application of practical and decorative stamped finishes, replicating stone and brickwork. Stamped concrete varieties are particularly amenable to personalization, allowing for pattern combinations according to your preferences.
Due to the lower labor costs associated with stamped concrete installation, you'll also find these services to be more affordable alternatives to proper stone or brick paving - which research suggests require more preparation time alongside specialist equipment.
Bringing you such benefits and more, Foundational Concrete Services carries out appointment-based work for creative, maintenance, or reparative outdoor living solutions.
"I recently had Foundational Concrete Services install a stamped concrete patio at my home," said one recent customer. "I couldn't be happier with the results. The team was professional and efficient - they were also able to complete the project on time and within budget."
You can contact the company at its official website or by calling the team over the phone for info on projects spanning concrete construction, sealer laying, concrete floor replacement, and many others.
When it comes to the quality of their work, here's concrete evidence!
If you're in or around Nashua, head to https://foundational-concrete-services.business.site/ to learn more about Foundational Concrete Services!