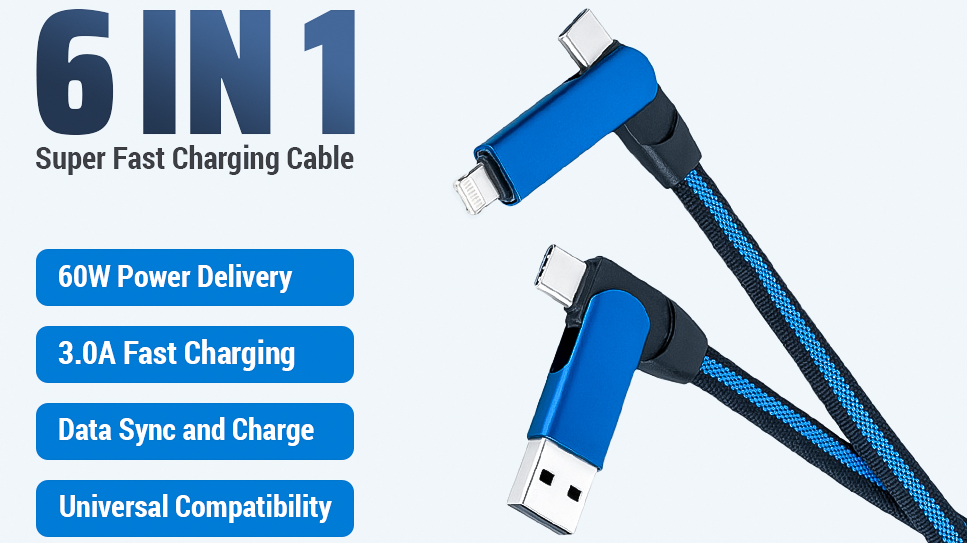 We've all felt the frustration of sorting through our arsenal of charging cables only to find the one that we need is missing. The time may have finally come to retire your misc. chargers box in favor of the newest addition to GOSNAYL's line of travel-oriented electronics accessories. The streamlined 6-in-1 multi-charging cable is improving on the classic multi-charger design with built-in, interchangeable connections, allowing six different charging combinations to be housed in one sleek cable.
Compatible with USB, USB-C, Micro USB, and iPhone charging ports, this new design may finally put an end to the bulky tangles of cables cluttering your travel bags and car consoles. While many multi-chargers have tried before, older designs like branching cables and modular connections have barely been any less cumbersome than carrying a separate charger for each device.
Check out the compact new cable at https://gosnayl.com/product/6-in-1-multi-charging-cable2/
As portable electronic devices become more and more integral to everyday life, keeping them charged is a constant concern. Over 90% of the global population now owns some kind of mobile phone, to say nothing of our smart watches, game systems, medical devices, and the myriad other electronics in constant need of charge.
Keeping so many devices connected and powered has birthed an entire industry of power and data transfer cables, most of which end up shoved in the backs of our drawers and the bottoms of boxes. While the dream of a true universal charger may someday be realized, the new 6-in-1 multi-charging cable design is the closest we're likely to get in the near future.
With 60W 3A fast charging capabilities and data transfer speeds of up to 480Mbps, the 6-in-1 cable was designed to meet the demands of your fast-paced life. In addition to its speed, the rust-resistant aluminum alloy connections and durable nylon flat braided sheath ensure that the cable can withstand heavy use and travel, so the 6-in-1 cable can go anywhere you do.
Friends and co-founders of GOSNAYL, Morgan Morales and Shawn Naylor, formed their company to further their love of both tech and travel. The 6-in-1 cable is the most recent in a range of products designed to make your tech more accessible on the move.
A spokesperson for the company shared about their mission, saying that "as smart devices are ever-evolving, their uses can become hindered or restricted simply due to unique individual living and working spaces. Our products help to bridge this gap with smart solutions."
Learn more about the 6-in-1 cable and GOSNAYL's other innovative accessories at https://gosnayl.com and stop letting your cables hold you back!