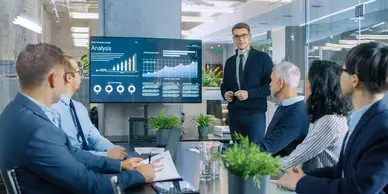 It's not just large companies who are at risk of cyber attack. In fact, as a small business, you're one of their top targets. Protecting your data doesn't have to mean spending a fortune. This leading digital consultancy now provides cutting edge cybersecurity services designed just for small businesses like yours.
Go to https://rsjonlinesolutions.com/services for more information.
Statistics recently reported by Forbes showed that cybercrime increased by 600% during the pandemic. While data breaches at major organizations get the most attention, your small business is most vulnerable to attack. With their managed IT services, RSJ Online Solutions offers you a cost-effective way of securing data and managing your network.
Forbes also cites a study commissioned by BullGuard, which indicated that 43% of small businesses have no cybersecurity defense plan. Given the sensitive data that many smaller companies handle, this makes you a particularly attractive target for cyber attackers. Some of the most common threats include ransomware attacks, phishing, malware, and data theft.
The managed IT services from RSJ Online Solutions have been designed in line with both existing and emerging cyber attack methods. The company's cyber security approach now includes network protection, advanced antivirus systems, two factor authentication, and phishing protection. Everything you need to keep your systems safe.
Data remains a central focus, with the agency's backup and disaster recovery systems offering you HIPPA compliant confidentiality, availability, and protection. RSJ Online Solutions also now provides free staff training, ensuring all your employees are well versed in the use of the technologies deployed.
About RSJ Online Solutions
In addition to enhanced security, RSJ Online Solutions provides a fully managed IT service for local small businesses. Targeted online marketing and brand awareness campaigns are also offered, allowing you to access an end-to-end digital solution. Current clients come from a wide range of sectors, including real estate, banking, accountancy, legal, health, and construction.
A company representative recently stated: "Our IT Solutions include a comprehensive consult to determine your business IT needs and goals. We also create an extensive report that includes a project plan with timelines and cost analysis. Call us today for a free roadmap to enable your success through our IT solutions service."
Get comprehensive managed IT and data security services, designed specifically for small businesses just like yours.
See how RSJ Online Solutions can help today. Check out https://rsjonlinesolutions.com/services so you can learn more.