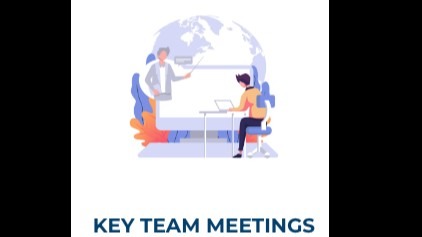 We've all heard the phrase 'it takes a village to raise a child' and the same can be said of any business venture. Additionally, having support from peers whose experiences and knowledge can fill in the gaps in our own learnings can be the key to long-term success. That's why BMK Community has developed its peer team services for MSP business owners.
As a member of the company's peer teams, you get access to the knowledge of experienced business owners and executives whose insights cover areas such as finance, operations, sales, leadership, and ownership.
Visit https://bmkcommunity.com for more information.
By connecting you with a team of like-minded individuals with a wide range of skill sets, the consultancy firm's mastermind-style teams add you to a peer team community that trains, consults, and works together in order to build success for all its members.
Running your MSP business alone can be a struggle, and you may need to constantly re-learn, re-evaluate, and change procedures as your company grows. However, without experience in certain areas, making changes can be risky at best and costly at worse.
BMK Community peer team communities can reduce these risks by creating a platform where MSP business owners like you can share their knowledge and support one another.
Working towards a single objective of 'achieving individual success by leveraging the experiences of a team,' the company's peer teams focus on five main areas: financial, operations, sales, leadership, and ownership. They support one another by sharing the best practices of each focus area with every team member.
If you are looking to build a profitable MSP, these focus areas include discussion and guidance on topics such as increasing company value, improving revenue, running a sales team, standardizing operations, and maximizing a business's growth.
In addition to the educational and support aspect of BMK Community's peer teams, they also provide you with accountability and clarity on all aspects of running an MSP business. By having regularly scheduled peer-to-peer reviews, calls, and meet-ups, you are motivated to take action and grow your business.
Having been working in the industry since 2004, BMK Community has built up a team of highly experienced consultants who have been helping MSP business owners grow their businesses for over 18 years. To help you find a peer team that suits your current needs, the firm has a range of Peer Team programs with various levels of commitment and training.
"Combined, our consultants have over 100 years of hands-on problem-solving expertise behind them," the company stated on its website. "That's a lot of problems, and even more solutions."
Learn how to build and grow a successful MSP business with BMK Community's peer team services!
For more information, you can visit https://bmkcommunity.com where you can sign up for a consultation.