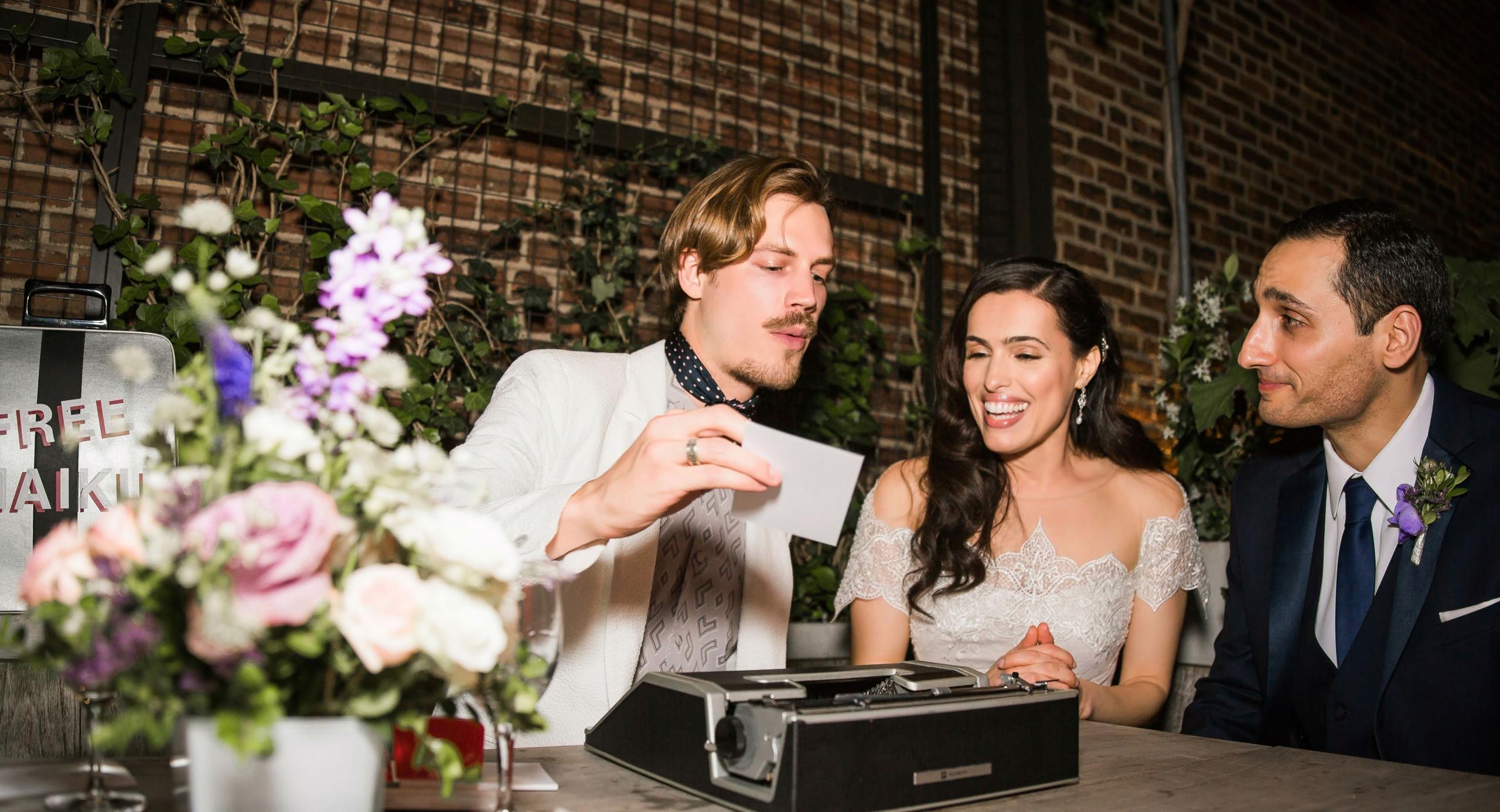 "At parties, guests tell our poets anything they want, and everyone goes home with a personalized haiku." Erick, a co-founder of Haikuists, explains. He goes on to share that the haiku encounter is "like a photo booth for the soul."
Book them today at https://haikuists.com
These haiku double as great party gifts, and they can be funny or serious, generic or personalized, sarcastic or educational, or whatever you make it! Haikuists compose each guest a unique verse in around a minute or two on an old-fashioned typewriter. All of the poems are typed on high-quality craft paper embossed on the back with a logo or monogram.
The unique event giveaway is available for any event or setting imaginable such as new years' eve parties on rooftops, oceanside family reunions, mountaintop weddings, valentine's day galas in historic mansions, proms at theme parks, corporate events in conference centers, music festivals, gallery openings, and other luxury events.
Haikuists make a memorable impression with minimal setup. Two poets work eat very event, although more are available upon request. They dress to impress, exuding an old Hollywood glamour aura thanks to their trusty typewriters.
Set-up requirements are minimal, needing only two chairs and a table that can fit two typewriters and 'FREE HAIKU' signage. Its poetry booth is usually placed in a high-trafficked area to engage guests. Haikuists' are amenable to special requests such as haiku cards, themed attire, or tabling decor.
Over the past decade, Haikuists have entertained thousands and thousands of people across the country. Originating in Brooklyn, New York, Haikuists now have a presence in a dozen cities spanning the U.S., including San Francisco.
Recipients of the haiku commonly frame them, hang them on fridges, or even get them tattooed! Haikuists' immense success and expansion over the last ten years is a testament to the joy they bring guests - and what haiku can do.
Learn more about Haikuists' innovative private events service offering at https://haikuists.com