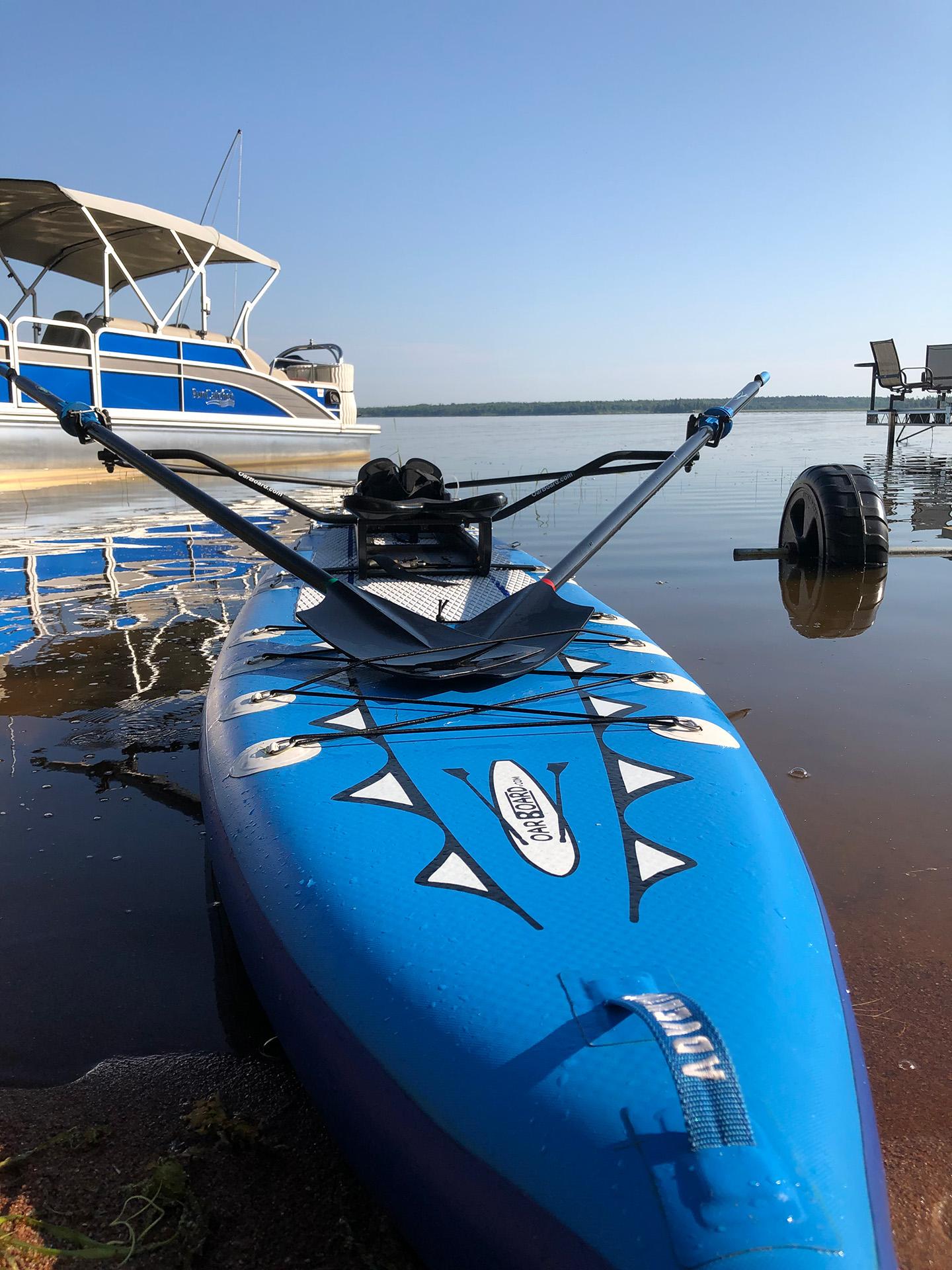 Whether you enjoy covering vast distances or simply exploring the shoreline, your paddle board should be able to go where you want it to. The Oar Board system can do just that, seamlessly changing from a stand-up boarding experience to a sculling position in an instant.
For a full list of this product's capabilities, visit https://www.oarboard.com/product/adventure-row-sup-13-4-combo-package
This new inflatable 2-in-1 board comes equipped with tools that balance maneuverability with long-distance capabilities. Thanks to its hybrid design, it is the ideal tool for waterside camping trips as it can easily cover miles of water in its sculling mode, and then swap to its alternate configuration for an easy approach to land.
Rowing is not only a popular recreational activity, but also a full-body workout, involving 85% of the body's muscles in the process. As a result, it has become a staple in the workout routines of many athletes, whether it be on a real watercraft or a stationary rowing machine in the gym.
This product has earned the endorsement of Ryan Galloway, an NHL veteran and regular explorer of the waters of eastern Canada. He has adopted the Oar Board as a part of his rehabilitation regiment following knee surgery, and says that its adaptability makes it perfect for outdoor fitness training and cross-training.
He says, "Thanks, Oar Board, for being an integral part of my off-season training and for providing a unique way to spend time on the water."
The Oar Board is made of durable materials that will not wear out due to heavy use, featuring carbon fiber oars and an ultra tough polymer plastic frame. Its inflatable design makes for easy storage during the off-season or during transit, which eliminates the need for a bulky and inconvenient trailer that other products may require.
The full kit comes with many accessories and collapsible sculling oars, all of which can easily fit in the provided backpack and wheelie bag which can, in turn, be lashed to the board using the highly durable nylon straps. The kit also includes a portable air pump that can be used to quickly inflate the board on the go.
You will not find this level of versatility or quality in any other product simply because this is the world's first hybrid board. This is the perfect tool for fitness cross-training, over-water exploration and travel, and will provide you with unparalleled exercise freedom for years to come.
Find out what this board can do, visit https://www.oarboard.com/product/adventure-row-sup-13-4-combo-package