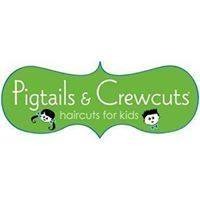 Getting a haircut can be simply terrifying for a kid! Just imagine it - you're stuck in a chair wrapped up in a plastic smock, there are weird sounds and smells all over the place, and some person you don't even know is coming at your hair with a pair of scissors! Sounds like a horror movie, doesn't it?
Pigtails & Crewcuts knows this, and they've found a way to make haircuts fun so that your child will actually be excited to go get their haircut. Now, if you live in the Smyrna-Vinings area, you'll no longer have to dread taking your child to the hair salon because a new kids haircut salon has opened!
This expansion will provide the children's hair salon franchise with a second location in the Atlanta area, seven miles from the original salon in Buckhead. The franchise's mission is to provide fun and memorable haircut experiences to your kids in the Smyrna-Vinings area.
Check them out at https://www.pigtailsandcrewcuts.com/atlanta-smyrna-vinings/kids-haircuts/pigtails-crewcuts-franchise-acquired-a-second-salon-7-miles-from-their-location-in-buckhead-ga
The new Smyrna-Vinings salon allows the Pigtails & Crewcuts franchise to expand its operating hours and services offered, such as ear piercings. It will also provide more growth opportunities for its staff and allow the company to further cultivate its roster of talented stylists who love to work with kids. Despite the changes that come with expansion, the company seeks to preserve the unique and stress-free experience it offers to your kids.
Getting a haircut can be a source of anxiety for a child, especially a younger one. Child psychologists say that the combination of being stuck in a chair and having a stranger using scissors on them can make it a challenge to keep them calm enough to sit through the essential procedure.
Pigtails & Crewcuts aims to alleviate these fears and make getting a haircut a fun experience for your kids. Along with having a staff experienced in working with kids, the franchise decorates its salons with bright, whimsical colors and furniture. They also offer movies and video games for your kids to interact with while their hair is cut. Imagine playing Nintendo while getting a haircut - almost makes you wish that you were a kid again!
With everything they do, the franchise aims to keep everything "kid-centric." This includes the hair products that they use and the gifts that they sell. They even have a private party room for birthday celebrations. However, they also offer haircut services to the rest of the family, if needed. You can kill two birds with one stone!
Pigtails & Crewcuts was originally founded in 2002 and has since grown to over 70 franchise locations throughout the country.
Give your kids the gift of a magical haircut by visiting https://www.pigtailsandcrewcuts.com/atlanta-smyrna-vinings/kids-haircuts/pigtails-crewcuts-franchise-acquired-a-second-salon-7-miles-from-their-location-in-buckhead-ga