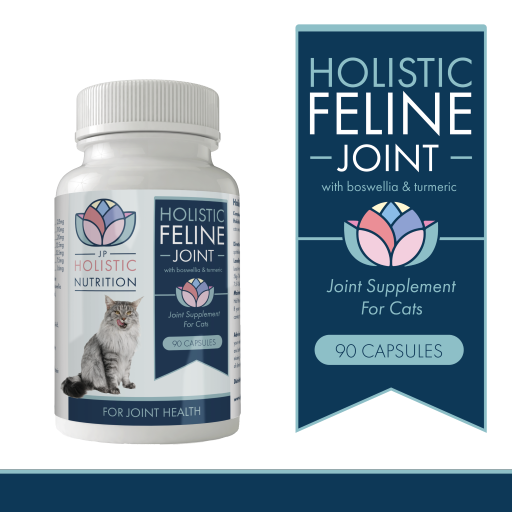 What do a grim-faced person, a petrified dog and an empty wallet have in common? They're all leaving the veterinary clinic.
Because if there's anything worse than seeing our beloved pets in pain, it's the price we have to pay for it. But with JP Holistic Nutrition's latest nutritional supplement, helping them to live life to the full has never been easier.
Go to https://www.jpholisticnutrition.com to find out more!
The company has created a unique blend of scientifically tested ingredients which can help to reduce age-related joint stiffness and soreness in cats and dogs. This is an affordable and gentle alternative to prescription joint medication and harsh chemicals.
Has your bed been feeling chilly at night because your favourite cat is struggling to climb the stairs? Or perhaps instead of zooming around on the end of their lead, your dog is limping and seems reluctant to go for a walk? These are tell-tale signs of age-related joint issues, like those that are common in humans.
To combat these symptoms, JP Holistic Nutrition's new supplements combine Boswellia, glucosamine and a range of other anti-inflammatory super ingredients to optimise wellbeing, mood and mobility. With a highly palatable beef flavouring, your pet will think it's a tasty treat.
The Doggie Joint and Feline Joint supplements are available as tubs of either 60 or 120 chewable capsules, with shipping available across the UK.
Check out the cat supplement at https://www.jpholisticnutrition.com/collections/joints/products/feline-joint
JP Holistic Nutrition was founded in 2021 by Dr Paul Boland, a veterinary surgeon with over 30 years of experience, and Justine Shone, an animal trainer and behaviourist. This expert partnership is committed to providing pet owners with effective supplements that won't break the bank.
A spokesperson for the company said "We believe that Nature has the answers to the health and wellbeing problems that we and our pets face. Not only will your pets enjoy the proven benefits of 100% natural nutritional supplements but you'll also have access to our wealth of expertise and advice in animal behavioural problems."
Whether you're a dog lover or a proud cat owner, you should never compromise on your pet's health and happiness - call 07928 227187 today to find out what JP Holistic Nutrition can do for you and your best friend.
Visit https://www.jpholisticnutrition.com/collections/joints/products/doggie-joint to check out the doggie supplement!