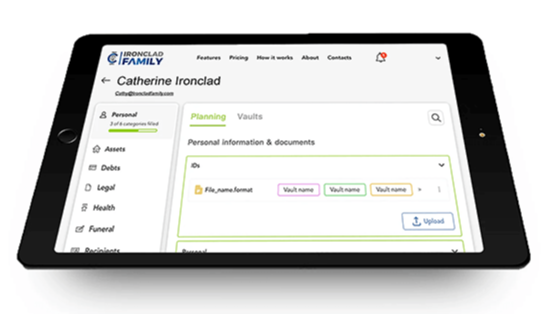 Getting your family prepared for the unexpected is a near-impossible task. But having safeguards in place to help them sustain and cope is relatively easy, especially if IronClad Family is there to give you a hand.
If you're active-duty military personnel, the Miami cyber security expert is providing you and your family back home with the digital protection tools you need to securely access information such as life insurance policies, legal documents, crypto and financial assets, and social media accounts from anywhere in the world. The digital protection tools are designed to supplement or replace the Military Family Care Plan, which ensures your family is taken care of while you're absent due to military requirements.
Go to https://www.ironcladfamily.com/familyprotection-digital to find out more.
One reality that many military families have to come to terms with is the possibility that a loved one might not return home from service. Moreover, families need to have measures in place to secure their assets and protect their future, in the event that the unthinkable does happen. If you're part of a military family, IronClad Family's digital protection tools offer a lot of the solutions you need.
IronClad Family uses encrypted digital vaults to secure your documents, files, passwords, and other assets. You can either scan and upload the documents you want to be protected to the vaults yourself, or send the documents to IronClad Family using tracked, two-way FedEx envelopes.
The vaults are capable of holding estate documents, financial information, cryptocurrency private keys, NFTs, personal photos and videos, and more. Once subscribed, you can create as many vaults as you want, and have access to them from anywhere in the world. The vaults are organized by essential aspects of your family's life, making navigation of them easy. You can also designate recipients of the documents in the event of death or incapacitation.
IronClad Family also provides you with access to an easy-to-use online wizard for creating wills, powers of attorney, and healthcare directives. They will also create emergency wallet cards for you with contacts, health issues, and other useful information for EMS services.
The cost of IronClad Family's Digital Protection Platform is $99.99 per year and includes all the features discussed above, plus many more. You can also take advantage of their 14-day free trial period to see if their digital protection tools are the right fit for you and your family.
A satisfied customer said: "As the mother of two young boys, IronClad Family takes one more thing off my plate and lets me rest easier knowing that in case of any event, my boys will still know me, know about their family, and their caregivers will know where everything is."
About IronClad Family
IronClad Family was started in 2015 as a one-stop shop for both physical and digital family protection products. Their products are screened and approved by cyber security professionals to ensure safekeeping and peace of mind.
In addition to digital protection tools, IronClad Family also offers a range of physical security devices, including RFID-blocking wallets, medical ID bracelets, personal cameras and alarms, GPS trackers, and fireproof and waterproof document carriers.
Secure your family's future today by visiting https://www.ironcladfamily.com/familyprotection-digital