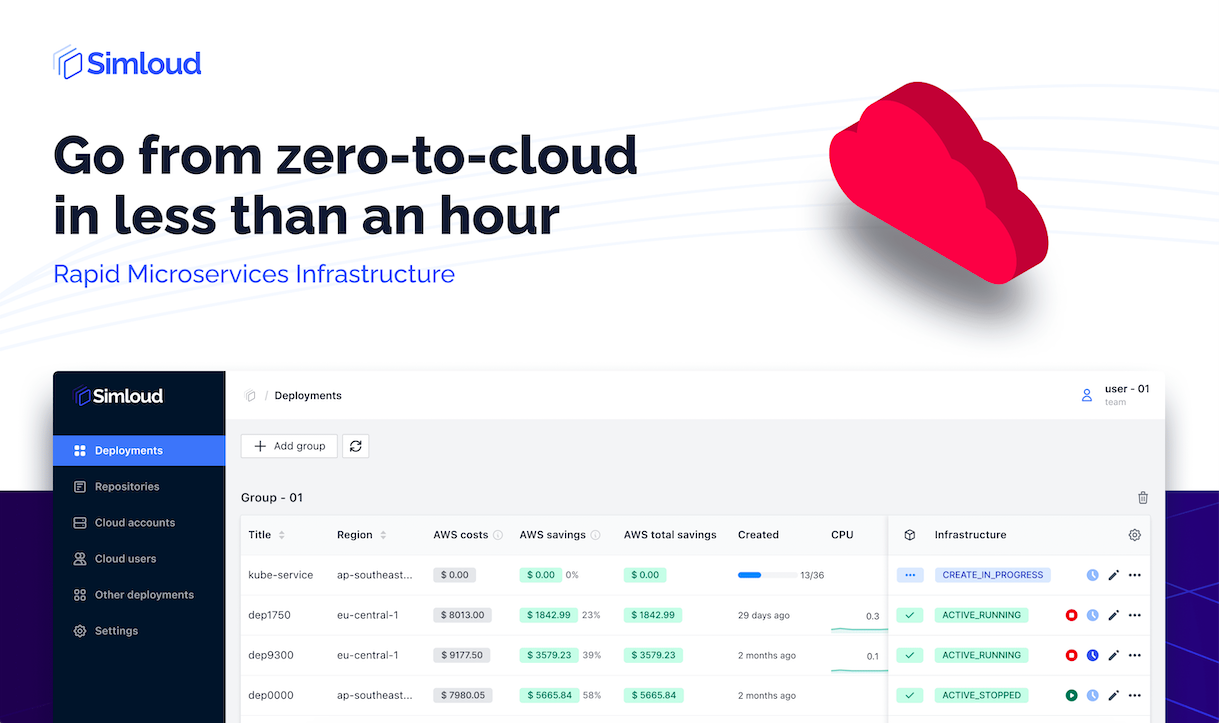 How long does it take your DevOps team to install updates and complete maintenance? Are you ready to migrate to the cloud? But unsure how long it will take? If you're worried your team won't be able to cope with the complex challenges of cloud migration, you need to speak to the Simloud platform team!
The newly launched platform from Simloud is aimed at you if you are ready to embrace the digital transformation. It can help you if you worry your business is being left behind because of outdated technologies, infrastructure, and digital systems. It overcomes a key cloud migration problem, which is the fact it can take 12 months to onboard to the cloud.
You can find out more at https://simloud.com
What do you know about the cloud? That it is time-consuming and expensive? That you have to employ DevOps experts and may face extended downtime? The newly launched Simloud platform helps you navigate technical and architectural complexities efficiently. You only have to give the code.
Cloud maintenance is included as part of the newly launched platform as the individuals behind it understand the need for routine version and infrastructure updates. This helps your website achieve peak performance and cope with demand. After the infrastructure has been built, you have access to a comprehensive dashboard.
It enables you to monitor the cloud environment, resources, compliance, cost management, and areas where savings could be made. Simloud is designed for microservices architecture including dockers, Kubernetes (K8s), serverless, and front-end one-page applications.
Advantages of using microservices via the Simloud platform include the fact your DevOps team can be disruptive, agile, and nimble. Microservices perform a specific function and operate independently, which makes them flexible and easy to test. If scalability is important to you, you need microservices, as they offer scalability without the need to compromise on cost or timescales.
An inexperienced DevOps manager will spend a considerable amount of time building a microservice architecture application. It can be challenging, as many elements can go wrong. The new Simloud platform takes on the role of the DevOps manager. You can focus on the day-to-day operations.
A satisfied customer wrote: "To achieve a professional, stable, secured, and cloud-agnostic architecture with centralized log-in, centralized monitoring, CI/CD, Vault, K8S, and Lambdas with cost prediction and cost optimization functionally, I would have needed to hire a team of DevOps specialized in so many cloud fields. Using Simloud, I created an environment in less than an hour."
Worried about how long it'll take DevOps to migrate your operations to the cloud? Fear not, there is another way! Simloud is the SaaS platform designed to transform your code into a fully functioning, agile, and responsive platform in no time at all. Contact the team to learn more.
Go to https://simloud.com to find out more!