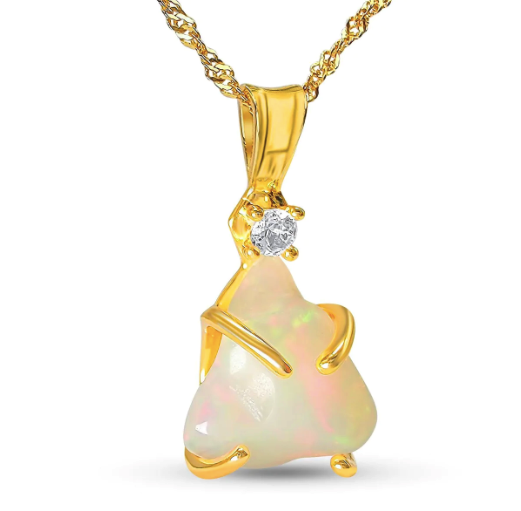 Want to give the gift of good luck? Then opal jewelry should be right up your alley! Even better, Uniquelan Jewelry sells unique uncut opal pieces that will surely impress your loved ones.
This is the perfect birthday gift for October since opal is one of the month's two birthstones. Take your pick from stud earrings, a pendant necklace, or a ring. Each piece is crowned by a raw opal that is burnished but not faceted, thereby allowing the gem to retain its natural characteristics.
Learn more by visiting https://uniquelanjewelry.com
The jewelry offered at the online shop bears AA+-rated genuine gemstones sourced from around the world. Since the opals are not cut to a predefined shape or size, you can rest assured that each piece is a one-of-a-kind item.
Opal is a kind of stone made from small spheres of silica arranged in a regular pattern. There are trace amounts of water between each sphere, giving it a unique luster. As a birthstone for October (alongside tourmaline), Opal is associated with good luck and creativity.
The Genuine Raw Opal Stud Earrings featured in the selection has an opal measuring 6 to 11 millimeters set in an 18K solid gold-over-sterling base. Another item is the Raw Fire Opal Crystal Necklace, which bears a fire opal pendant measuring 10 to 12 millimeters that is strung on a 17-inch long gold chain. Also available is the Raw Fire Opal Ring, which has a 10 to 12-millimeter fire opal gem set in a hypoallergenic 24K gold-over-sterling band.
Uniquelan Jewelry allows you to customize the color of the opal, the metal used, and the length of the chain. Each purchase also comes with a deluxe gift box and a message card for your recipient.
If your order is above $50, your delivery fee is waived. You can also get express shipping for an additional cost.
About Uniquelan Jewelry
Uniquelan Jewelry's goal is simple: to make gift-giving easy by providing high-quality accessories for all occasions. The company specializes in raw gemstone pieces that have a rustic and authentic look. In addition to unfaceted opal jewelry, it also sells raw garnet, amethyst, aquamarine, moonstone, sapphire, and ruby pieces.
A spokesperson says: "Precious people deserve precious gifts. That's why we offer gemstone jewelry that communicates your love and care effortlessly. With so many raw stones and designs to choose from, we're confident that you can find the ideal present at our store."
Your search for the ideal birthday gift ends here! Check out Uniquelan Jewelry's raw opal collection to see why people have fallen in love with it.
Visit https://uniquelanjewelry.com/opal for full details.