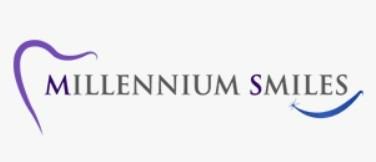 Do you have difficulty chewing certain foods, or wince in pain when you drink iced beverages? If you have some missing or damaged teeth, dental implants could very likely be the best option for you!
Millennium Smiles offers the best quality dental implants and overdentures for adults experiencing chewing difficulties or oral pain due to missing or damaged teeth.
Want to learn more? Go to https://millenniumsmiles.com/service/dental-implants/
✓ Bad Bite, Bad News ✓
Absent teeth can create chewing difficulties and increase your risk of periodontal disease. Since your mouth is the gateway to your stomach, both of these issues can contribute to digestive health problems, which of course affect your overall health and immunity.
Dental implants can not only improve your oral and overall health, including chewing efficacy, but they can also make your smile more aesthetically pleasing! A healthy, shining smile means better self-confidence and an improved sense of emotional well-being.
✓ The Best Dental Implants ✓
Millenium Smiles offers dental implants and overdentures that function just like natural teeth. Acting as artificial tooth roots, these implants increase blood flow to your gums' deep tissue and jawbone, improving your oral health and decreasing sensitivity to cold and pressure.
While dental implants work best with healthy gums and jawbones, there is still hope if you are experiencing some gum disease. In fact, Millennium Smiles can treat diseased gums, getting them ready for implants once healed.
Millennium Smiles uses dental implants made from titanium rods, which are securely implanted into your jawbone for durability and optimal comfort. The overdentures are then fitted overtop the implants, creating a new-looking and strengthened bite. These are suitable for replacing one tooth, a few teeth, or an entire upper or lower set.
✓ About Millennium Smiles ✓
Located in Frisco, TX, Millennium Smiles offers a wide variety of dental services to the greater Dallas-Fortworth community. Along with cosmetic dental services, the practice offers preventative periodontal care, orthodontics, and ozone care, as well as myofunctional therapy for children. The two primary dentists at Millenium Smiles, Dr. Park and Dr. Korous, have degrees from esteemed universities and a multitude of dental certifications between them.
Want to learn more and schedule a consultation with Millennium Smiles? Just go to https://millenniumsmiles.com/service/dental-implants/