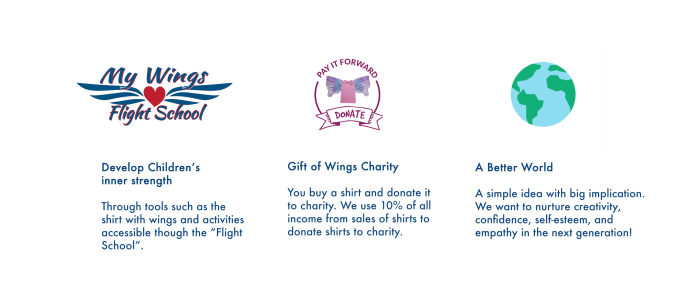 Does your child love magical creatures like fairies and dragons? Lee Giove's My Wings crowdfunding project offers children's shirts that will let your child transform into their favorite creature and explore their imagination!
The campaign is now active on Indiegogo and its goal is to generate funding for the production of one-of-a-kind children's shirts, which feature colorful, winged sleeves. With your help, the creators will also be able to offer accompanying developmental activities that make use of the shirts' wings.
Go to https://www.indiegogo.com/projects/my-wings-shirts-that-nurture-your-kid-s-spirit/reft/13126549/uj for more information.
"My Wings" crowdfunding campaign allows you to claim shirt designs of your choice, including the Jungle Butterfly Shirt, Magical Fairy Shirt, Dancing Butterfly Shirt, and Mighty Dragon Shirt. The shirts come in different sizes, making them suitable for children that are between the ages of 2 and 8.
You can view a complete size chart for the shirts on the Indiegogo platform. The winged shirts will be made of organic and fairtrade grown cotton and will be available for worldwide shipping.
If you get the winged shirts for your children, you will have access to digital activities you can enjoy together, such as yoga, face painting, sing-along songs, meditation, wand making, mask making, and coloring. You can find out more about the creative projects that utilize the wings on the "My Wings Flight School" website.
With the winged shirts and accompanying activities, your children will be able to unleash their inner strength, gain confidence, and use their imagination.
As much as 10% of the proceeds from your purchase will be allocated as funding for "My Wings" partner organizations. You can also share your preferred children's charity organization you want to back on the foundation's Instagram page. So far, the developers behind the project have donated over 300 shirts to children across the globe.
Lee Giove was inspired to launch "My Wings" from his experience as a children's music teacher. His students played a game called the "scarf dance," each wearing a scarf to transform into a dragon, fairy, or butterfly. This game helped spark the imagination of his students and made them feel confident and brave. He hopes to deliver the same experience to children across the world with his "My Wings" shirts.
Lee states: "My mission and the mission of My Wings is to encourage freedom and empowerment of children to believe in and go towards their dreams and passions so that together we can create a more healthy and balanced world while enjoying the gift of life."
Lee Giove's My Wings shirts will help your child grow as they enjoy a range of activities! Back the project today!
Ready to give your child the gift of fun and imagination? Click on https://www.indiegogo.com/projects/my-wings-shirts-that-nurture-your-kid-s-spirit/reft/13126549/uj for the information you need!