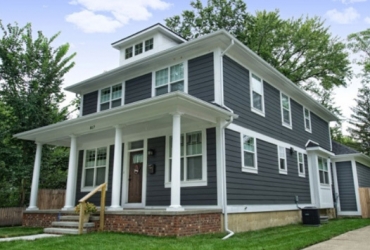 If you've ever taken a look at the real estate situation in your region, either out of curiosity or because you've decided it's time for a home that better serves your needs and lifestyle, you've probably come away from that experience fairly disillusioned.
Home prices throughout Michigan are continuing to rise, and most of the time you'll need to make a range of concessions when settling on a property that comes closest to almost fulfilling your wish list.
That doesn't seem fair. Your home is one of your biggest assets. It should meet your every standard and deliver on all your dreams.
Sound a little far-fetched?
Not if you're the one in charge of the designs. That's right. You can build your own home. And the award-winning team at Trademark Building Company is here to help you make that happen.
What's your favorite architectural style? Is it a modern farmhouse? Full contemporary with an open floor plan? Coastal? French country? And what about those amenities? Imagine having your own resort-like spa bathroom, a gourmet kitchen, floor-to-ceiling windows, and a gigantic master.
When you're in charge of building your own home, you get everything your way, not someone else's way that you'll buy while secretly planning your renovations.
When you devote your budget to getting it right the first time, you'll have a home that pays off in spades.
Trademark Building Company wants to help you fulfill your dreams without compromise. They offer top-quality construction services to residents in Troy, Bloomfield, Birmingham, Royal Oak, Ferndale, Berkley, Beverly Hill, and all surrounding areas.
Request your free quote right now at https://www.trademarkbuildingmichigan.com
More and more people are choosing to have their new homes custom built instead of settling for the available real estate supply. It just makes sense. Dollars and sense.
When you embark on a design-build with Trademark, you get access to a full range of architectural designs, layout options, upgrade opportunities, and all those cool additions and details you've seen on HGTV. It's all there for you!
Awarded the Best of Houzz in 2020, Trademark Building Company works with the highest quality sub-contractors and fellow award-winning architects to ensure superior craftsmanship and a design-build that reflects your aesthetic and lifestyle and works within your budget.
And you won't be flying blind. The company's virtual design studio gives you a custom view of every room so you get a clear idea of what should go where.
You'll have the first say on every design element. Choose that open floor plan, custom cabinetry, 8-foot doors, those beautiful tall ceilings, and sumptuous hardwood flooring. And if there's someone in your household who's handicapped or requires special retrofits, the team at Trademark is at the ready. Your wish is their command.
While your design-build is underway, you'll be given access to your own secure mini-website. The site puts you in instant contact with your building team so you'll never be chasing contractors or waiting for someone to get back to you.
Your portal gives you an up-to-date comprehensive view of all your active invoices, all design and materials selections, and the opportunity to change or upgrade materials or amenities.
You can monitor every one of your project's milestones as well as your financials - all in real-time - and can ask questions, submit or request photos, and personally approve the next steps.
When it comes to financing your dream, Trademark makes it easy. They offer a variety of financing options and will work with you to find just the right fit.
Trademark Building Company is the newest addition to the McGuckin family's legacy of industry-related businesses and is now operated by Tony McGuckin. Known for his relentless attention to detail and customer-centric principles, you know you're in great hands with Tony and his fully vetted, fully licensed, and insured partners and staff.
With a full suite of home styles, floor plans, and upscale enhancements at your fingertips, the design-build experts at Trademark Building Company make creating your own custom residence nothing short of thrilling. Partner with an award-winning team with generations of experience and uncompromising standards for the residential oasis you deserve.
Do you know exactly what you want in your new home? Let's hit that nail on the head. Visit https://www.trademarkbuildingmichigan.com to find out more.