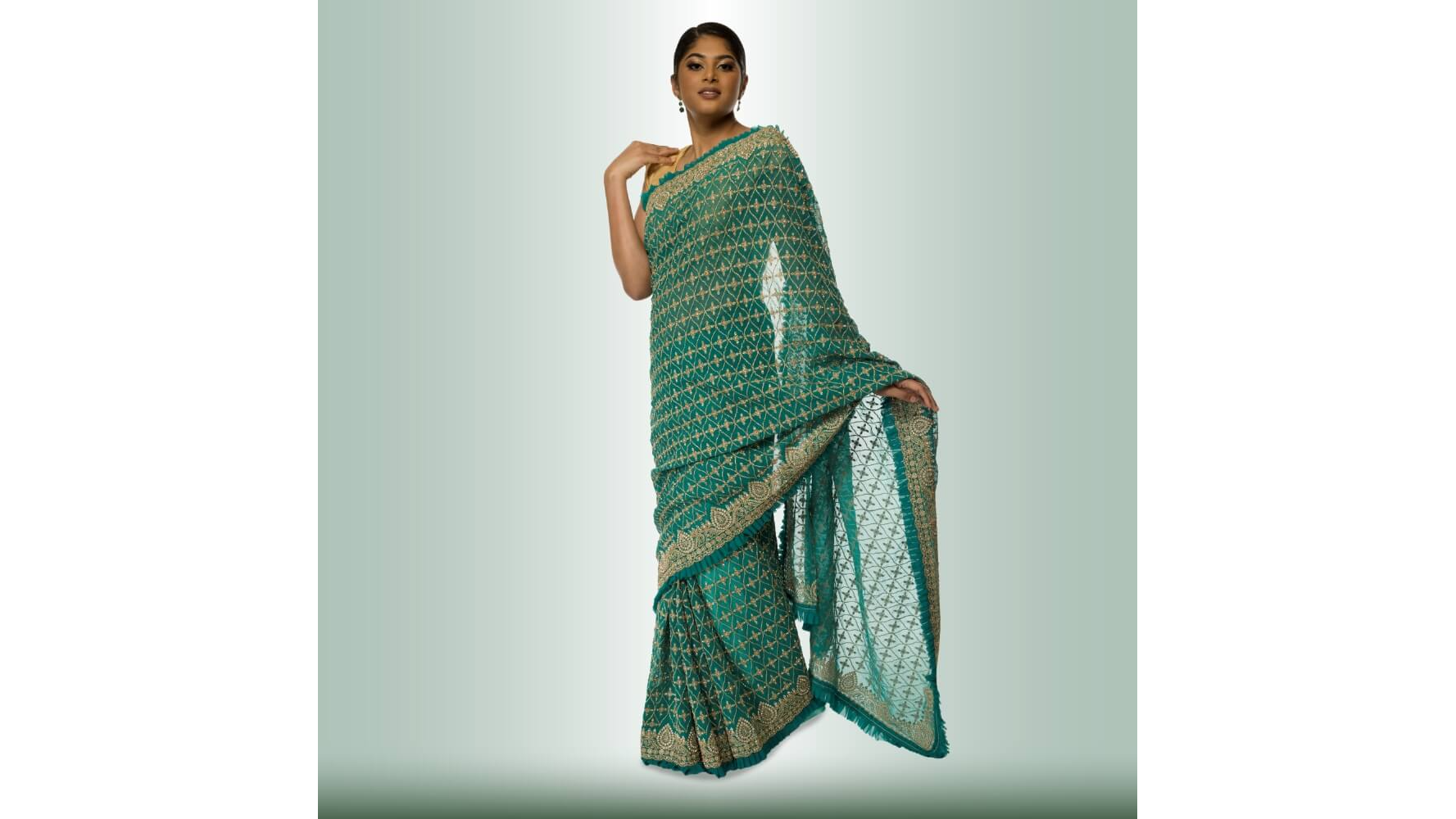 Chiro's By Jigyasa knows that your wedding day is the most important day of your life. If you are looking for a saree that is as beautiful and unique as you are, their new collection is for you.
Chiro's By Jigyasa's new bridal collection features carefully curated handmade wedding sarees that have been crafted from the finest georgette, pure silk, tussar silk and net fabrics. Chiro's By Jigyasa has chosen to use these high-quality natural fabrics in their new line of wedding sarees as they believe these diaphanous and richly lustrous fabrics will offer you the ultimate in luxury and elegance on your wedding day.
Go to https://chirosbyjigyasa.com/collections/wedding-saree to find out more.
In their new 2023 bridal collection, Chiro's By Jigyasa has taken inspiration from the dominant trends in Indian weddings that have been tipped for this year. As a recent article on Brides stated, while the saree is as timeless and on-trend as ever, this year's brides are taking what is traditional and giving it a contemporary twist.
As such, with their new collection, Chiro's By Jigyasa has taken their stylistic cues from the current wedding saree trends. These include for heritage weaves, like the gilded and ornate Banarasi weave. Chiro's By Jigyasa knows lightweight fabrics like net are also in amongst brides this year, as are reimagined blouses, belted sarees, pastel and ivory sarees, and hybrid silhouettes.
One highlight of the new bridal collection is their new Lightweight Net Saree with Contrast Blouse. This piece gives you a dusty rose pink net saree with delicate floral embroidery and a rich plum red blouse with the same pink embroidered accents.
If you're seeking a timeless and understated look, they also have their new Indian Saree Dress in Georgette, which comes in a very soft muted pink with a traditional ivory border and glistening pearl embroidery. However, if you want to go bold, the store's new Banarasi Malai Silk Sari has been handmade in vivid hot pink silk with shimmering gold applique.
Chiro's By Jigyasa is confident that they have the perfect saree for you and your wedding. You'll love choosing from their deeply diverse range of colors, heritage styles, and embroidery designs; with both heavy and light embroidered wedding sarees available to you.
The customer service team at Chiro's By Jigyasa is also standing by to help you with any questions you may have about their new line of wedding sarees.
A spokesperson for the Indian formalwear brand said, "Chiro's by Jigyasa is the ultimate destination for Indian bridal wear. Our latest collection of Indian wedding dresses is designed exclusively for you, to bring out the true Indian experience that you had back home. Our team understands the intricate threadwork, beadwork, and rich ethnic textile designs that make traditional Indian wedding sarees so graceful—and we've brought all of that to our store."
Whatever wedding style you want to emulate, Chiro's By Jigyasa can offer you the finest quality handmade saree.
Visit https://chirosbyjigyasa.com/collections/wedding-saree to discover your perfect wedding saree today!