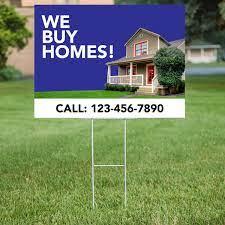 Picture your business across the local area on stunning yard signs, and attracting attention in high-visibility areas. You're one click away from that happening!
Big Daddy's Signs offers low-cost marketing and advertising to help you establish credibility or authority in your area. Printed yard signs provide you with a highly visible method for targeting local foot traffic.
Grow your brand at: https://bigdaddyssigns.com
The signage company connects you to cutting-edge printing technology and a range of package options. Industry research shows that 85% of customers buy from businesses within a 5-mile radius, and yard signs are proven to drive leads and sales.
By targeting local customers, you can grow brand awareness while also focusing your marketing efforts on "hot leads" who are more likely to complete a purchase.
Each weatherproof, lightweight yard sign can be positioned in a location that attracts attention from foot traffic and vehicles in your neighborhood.
The professionally-made templates available through the site have been created with optimal engagement in mind and can be fully tailored to meet your requirements.
Each option available through Big Daddy's Signs is a flexible advertising solution that assists you in improving local authority. You can showcase your products or services alongside customer reviews, success stories, and slogans.
The design process has been simplified to reduce friction, and no previous experience is required to create an eye-catching banner. If you require additional assistance during the creation of your advertisement, the expert design team leverages years of industry experience.
With over 8.1 million banners sold to date, Big Daddy's Signs has established itself as a nationwide expert in the visual advertising space. In addition to yard signs for businesses, they provide political sign creation, vehicle magnets, feather flag banners, and more.
A spokesperson for the company states: "Big Daddy's Yard Signs will be the most affordable, high-quality signs you will have ever enjoyed. Check out our incredible corrugated plastic sign prices or our aluminum sign prices. In addition, we have a staff of highly skilled graphic designers and a huge template library that will enable us to get most proofs back within an hour."
If you're looking for the most effective way to put your business on the map, this service is ideal!
Check out https://bigdaddyssigns.com/yard-signs for any extra info you need!