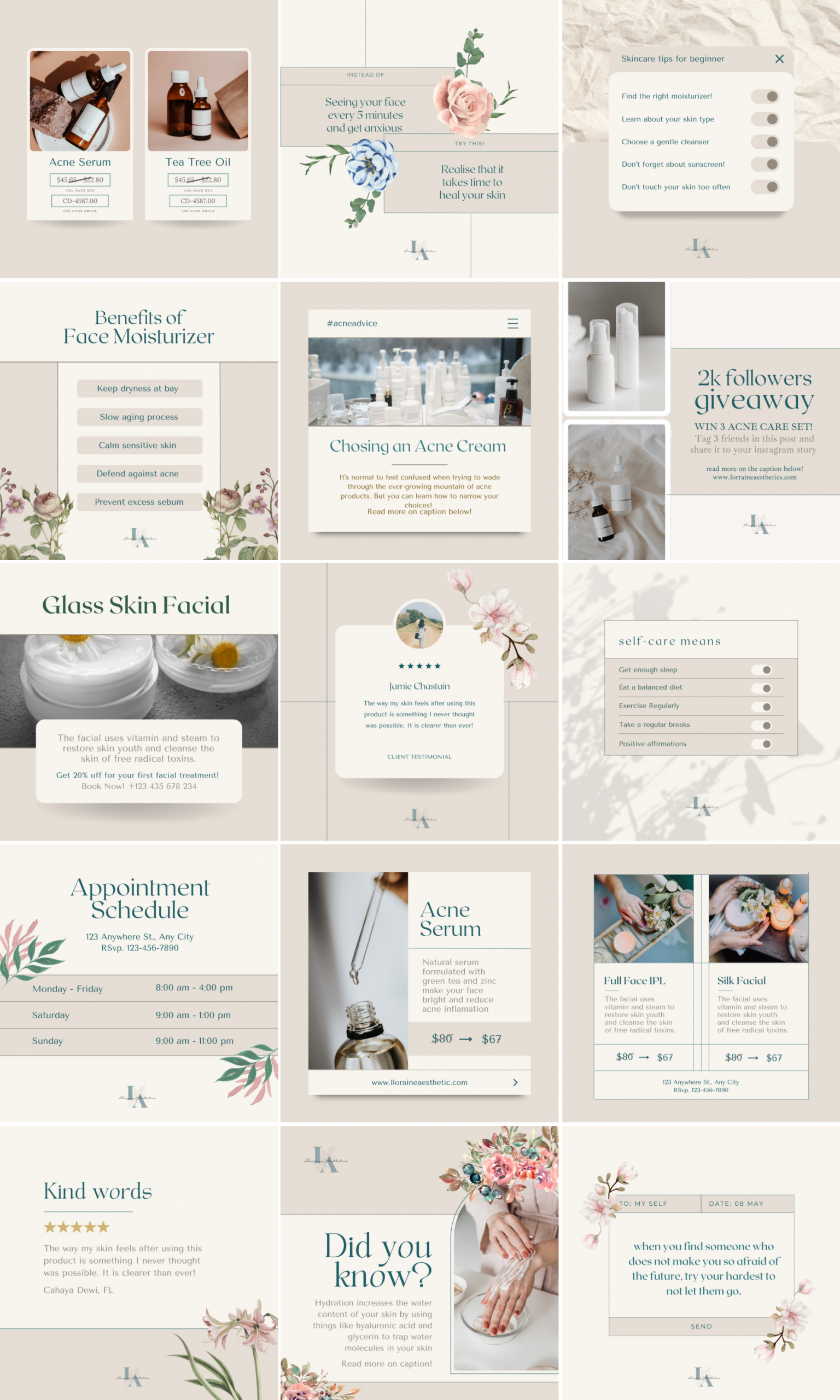 Your social media account will generate an impression of your company in the minds of your potential clients – make sure it's a good one by downloading the fully-editable post templates today from Grow Your Esthetician Business!
The design company can make it faster and easier than ever for you to create social media posts that keep beauty clients returning time and again.
Download them today at https://growyourestheticianbusiness.com/Template/template-funnel/10-landing
Grow Your Esthetician Business' template packs will help you generate consistency, a factor that encourages people browsing your social accounts to identify and trust your brand. Developing a unique identity is a critical part of standing out from your competition, particularly if you are in a densely saturated industry.
The pack contains templates for a number of different post types, ranging from giveaways and inspirational quotes to skincare facts and infographics. They have been designed by professional graphic designers to support your esthetician services and help you take them to the next level.
You can use the downloadable post models no matter the size of your operations, whether you are new to the industry and need help finding your unique page aesthetic, or are a seasoned beauty professional looking to freshen up your social media feed.
Specifically, you can use the pack to generate posts on Instagram to promote your specific products or services, which is an essential part of converting leads into sales and increasing your revenue. The fully-editable templates can easily be leveraged to inform your followers about your upcoming appointment slots and schedules as well as legitimize your brand through reviews and testimonials.
After downloading the templates, you need only select your choice in color, imaging, and content through Canva to foreground your own unique flair. Ultimately, the pack offers you 15 base templates that can speed up the process of content creation and present a cohesive feed that customers feel that they can trust.
Alongside the most recent addition to its collection of downloadable content, the Grow Your Esthetician Business site showcases over 10 different template packs offering you more than 365 potential post types.
A satisfied esthetician said, "I normally spend so much trying to figure out what to post every day. These templates make it so much easier, especially with the post ideas. So I am happy I came across them."
Downloading post templates doesn't mean sacrificing your unique esthetician brand voice – it just saves you time! Visit Grow Your Esthetician Business online to find out more about creating a cohesive feed that represents your company ethos!
Browse the full range of templates by visiting https://growyourestheticianbusiness.com/