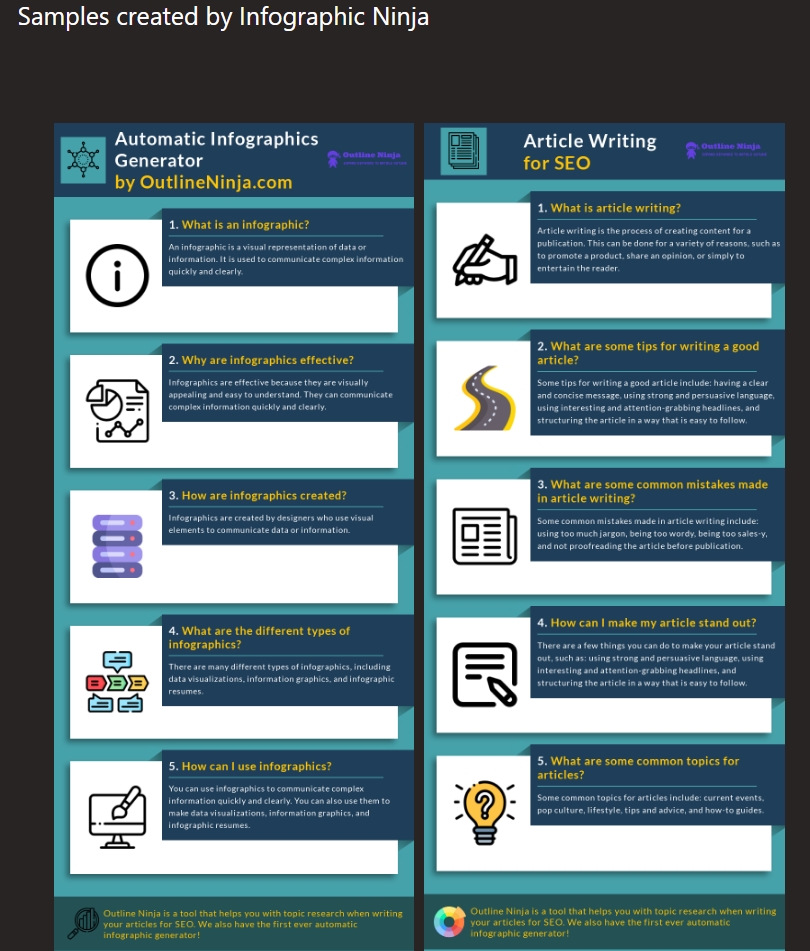 Everyone is talking about social media and content marketing, but most of us don't have the time or money to devote to it. Infographics are the latest trend, and you don't need to be graphic designer to get amazing results ready to be shared on Pinterest and other social media platforms. Just type in your keyword, provide a title, and your branded infographic is ready to go.
Go to https://outline.ninja/automated-infographics-generator-tool for more information.
The content marketing field is rapidly expanding, and you now need to consider multiple formats and platforms in order to reach a wide audience. Recognizing that you might not be a graphic design guru, the infographic auto generator from OutlineNinja.com is designed to produce visually appealing and relevant graphics in an instant.
Let's see why this is useful to you. A recent article from Forbes explains why infographics are becoming an increasingly popular marketing tool. In the first instance, it explains that the visually appealing nature of infographics often attracts more viewers. Given their concise format, Forbes also points out that infographics are easier to read and digest, making them highly effective.
Producing a graphic design that is attractive may require a specialist in the field, or you might need to spend lots of time on specialist applications like Canva, Venngage, and Piktochart. Not anymore. The solution from OutlineNinja.com aims to help you create amazing infographics with minimal time or money spent. It auto generates engaging and attractive results that you can share anywhere.
Of course, it is also important that the information contained within your infographic is relevant and on point. To that end, OutlineNinja.com has paid particular attention to the content creation element with AI. After your keyword has been inserted, the system generates 5 questions relating to the topic, allowing it to focus information on your target market.
About OutlineNinja.com
In addition to the new infographic auto generator, OutlineNinja.com offers an all-in-one blogging research and planning tool. The system takes a search phrase and delivers a wide range of insights on the topic, including the top 10 results on Google USA, average word count for competitor articles, Quora and Reddit discussions, and more.
A company representative stated: "We develop innovative tools that save marketers time while producing outstanding results. With our automatic infographic creator, you can create an infographic in one step. Just type one keyword and provide your company logo and title to produce an infographic instantly."
Infographics can help you reach a huge audience. With the auto generator from OutlineNinja.com, you can get into the content marketing game with minimal time or expense.
See a free demonstration today. Check out https://outline.ninja/automated-infographics-generator-tool so you can learn more.