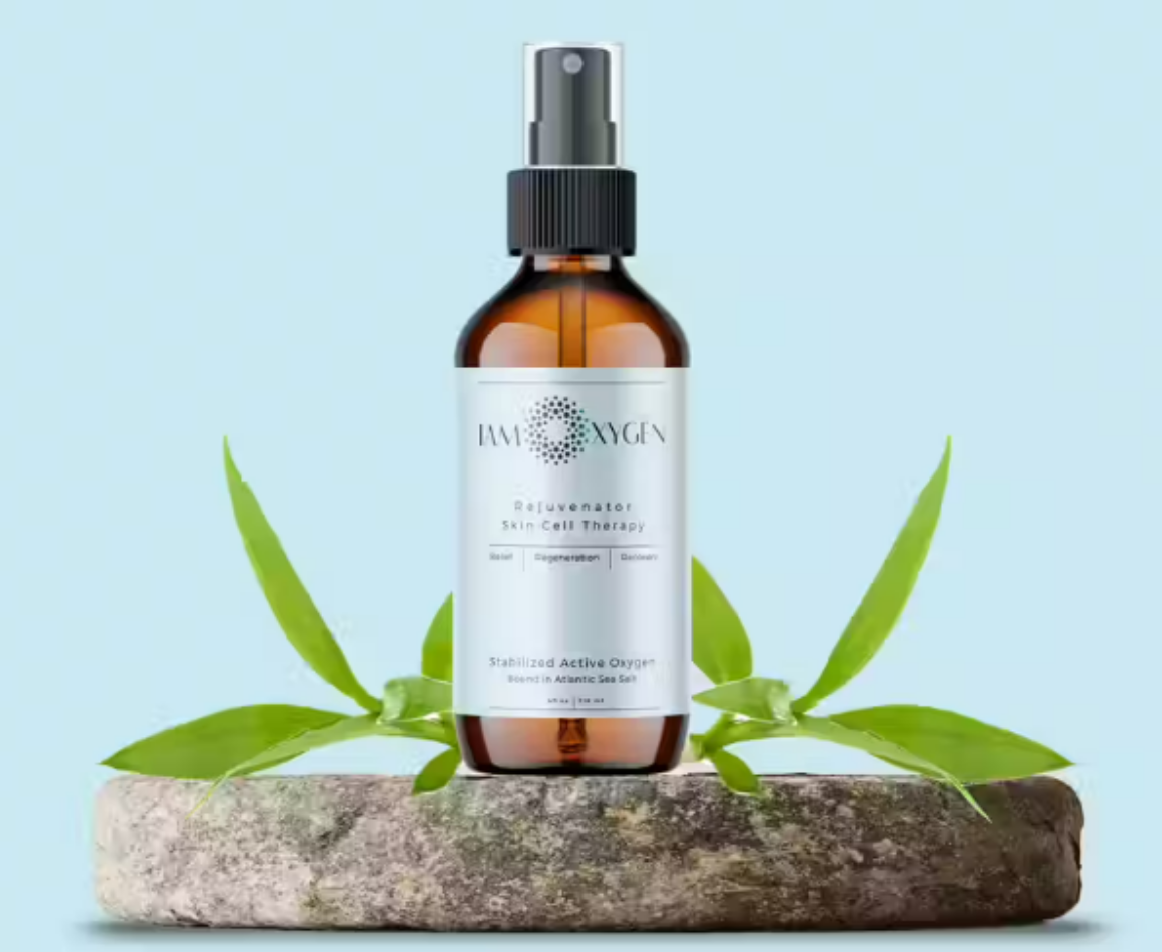 Give your skin a daily boost of active oxygen with this pH-balancing, skin cell therapy spray! Iamoxygen's facial mist contains 350,000ppm of stabilized oxygen designed to attack cold sore-causing bacteria!
The Rejuvenator was formulated based on research into how ozone therapies can be used to minimize the symptoms of cold sores by eliminating bacteria and soothing irritation.
Discover the mist's full capabilities at https://iamoxygen.com/product/rejuvenator-iamoxygen-skin-cell-therapy-2
The stabilized active oxygen concentrated into Iamoxygen's facial spray disrupts the lifecycle of the sore-causing bacteria, minimizing blistering and aggravation. The mist works by saturating your skin with pure, bioavailable oxygen, creating a highly-oxygenated environment that destroys the anaerobic bacteria related to cold sores.
Moreover, it can alleviate the discomfort the cold sore virus causes you due to its anti-inflammatory properties, as well as accelerate your healing process and soothe any burning, tingling, or itching sensations. As such, the Rejuvenator can help to restore your complexion after cold sores appear by improving your body's cellular metabolism and renewal.
Iamoxygen recommends spritzing the pH-balancing mist onto your face after cleansing and throughout the day whenever you need it for reduced inflammation and discomfort.
In addition to ameliorating the symptoms of cold sores, the Rejevenator's cell-repairing capabilities can work to improve your collagen production, increasing skin elasticity and reducing the common signs of aging. Iamoxygen also indicates that the hydrating mist can be used to relieve sunburns, bites, abrasions, acne, canker sores, and eczema.
For daily use as a facial cleanser or clarifying mist, the soothing soluble oxygen concentrate encourages your skin's natural respiration processes and stimulates cell turnover. The antioxidant-rich cleansing spray was created to dispel day-to-day pollutants and neutralize free radicals that would otherwise affect your epidermal health and vitality.
About Iamoxygen
Using organically-sourced ingredients and a proprietary bio-oxidative formula, Iamoxygen has championed hydrogen peroxide-free ozone and oxygen therapy products for at-home and on-the-go use. Currently, it uses 90% plastic-free packaging for its sprays and concentrates and has committed to converting its remaining plastics to hemp by 2025. The vegan and cruelty-free brand manufactures its product range in a USA-based GMP facility using 100% natural ingredients.
Iamoxygen is at the forefront of the bio-oxidative, ozone, and oxygen therapy revolution - visit the online store to learn about the company's vision and environmental ethos!
Browse the oxygen therapy range at https://iamoxygen.com