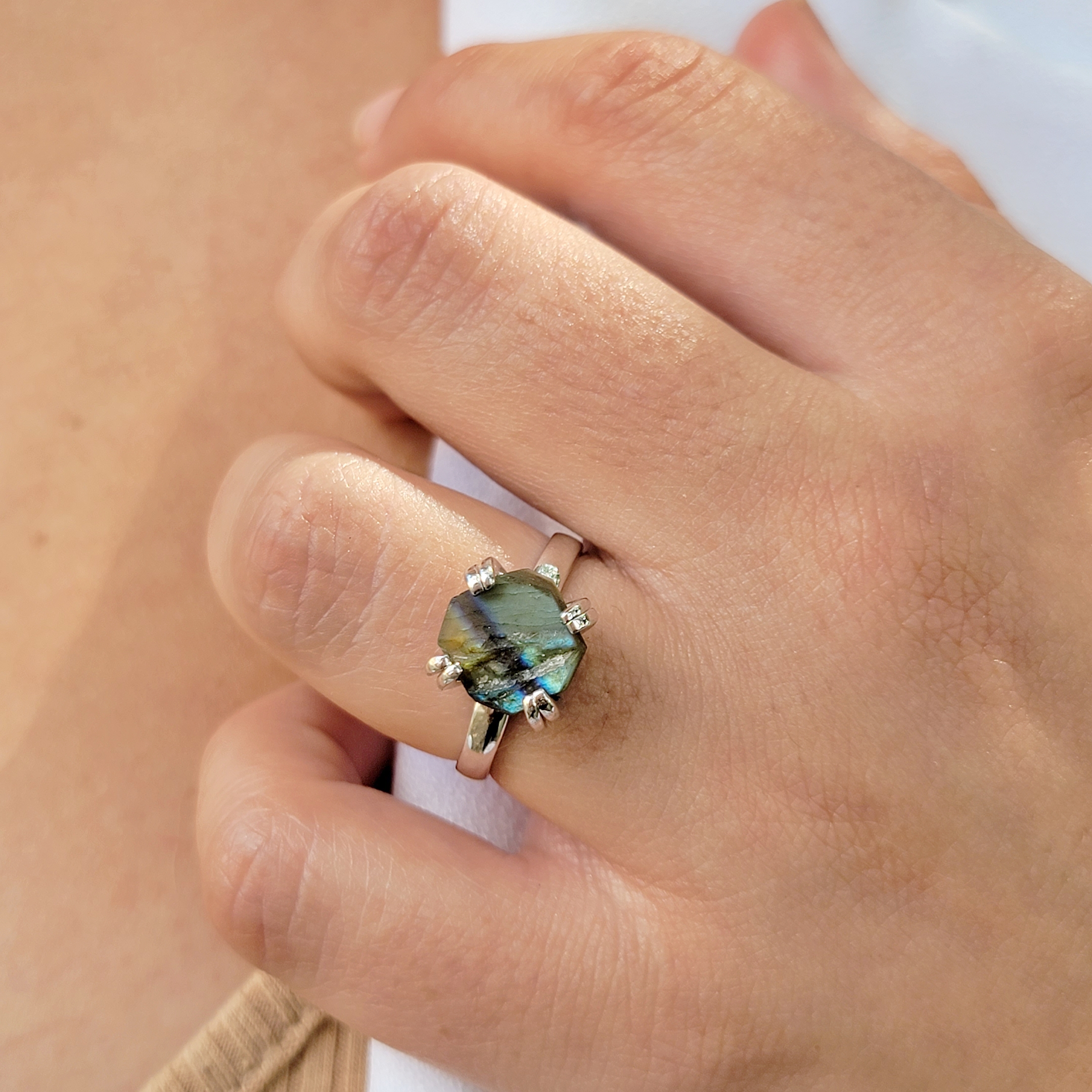 For one-of-a-kind jewelry that will really showcase your personal style and help you to feel more powerful and beautiful than ever, you need Uniquelan Jewelry's raw labradorite line.
In their latest collection, the jeweler has chosen to highlight labradorite both for its natural beauty and because, amongst crystal docents, it is renowned as the most powerful crystal to use for protection. In Uniquelan Jewelry's labradorite range, you can choose from rings, bracelets, necklaces, and earrings, many of which feature the one-of-a-kind raw, uncut stones that the jeweler has become known for throughout the US.
Go to https://uniquelanjewelry.com/collections/labradorite to find out more.
The launch of the raw stone collection coincides with the ongoing popularity of this type of crystal amongst both luxury fashion and high-end street brands. As a recent article in Gorgeous Girl described, the runway shows of international fashion designers like Givenchy, Dries Van Noten and Elie Saab have all been accented by distinct, raw crystal pieces.
The fashion commentators at the magazine believe that raw stones speak to a growing appreciation for the beauty of imperfection and an interest in artistic and bohemian expression. Uniquelan Jewelry agrees, and they also believe that raw stones are more energetically powerful. As such, they are confident that when you wear a piece from their new raw labradorite collection, you will feel the strong protecting, balancing, calming, detoxifying and intuition-boosting qualities of the stone.
If you are looking for natural, uncut stones, you will enjoy Uniquelan's Raw Flashy Labradorite Necklace, which features a 12mm, 1.9 carat raw stone pendant hanging beneath a 3mm clear quartz stone. This comes on a fine rope chain which you can select in 24k yellow, rose, or white solid gold over sterling silver. Similarly, their Natural Rainbow Labradorite Ring showcases to you the rich, variegated hues of this beautiful stone.
If you are looking for a more polished final look, you can also select from items like the Real Labradorite Bezel Stud Earrings, which feature two perfectly domed 6mm round stones. There is also a matching Real Labradorite Bezel Necklace available for you to purchase.
As a store proud of its ethical and environmental commitments, Uniquelan Jewelry wants to assure you that all of its labradorites are mined in Canada.
Uniquelan Jewelry is an online jewelry boutique devoted to sourcing nature's most beautiful raw stones and setting them in understated yet unique designs.
A spokesperson for the store said, "Labradorite is a flashy, beautiful stone that is also the most used powerful crystal for protection. Known as the stone of transformation, our labradorites are polished and finished into the finest, unique quality jewelry."
For a piece of jewelry as powerful as it is beautiful, shop from Uniquelan Jewelry's new collection.
Visit https://uniquelanjewelry.com/collections/labradorite to pick up your first labradorite piece today.