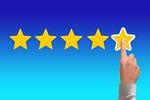 Chiro's By Jigyasa is proud to be the number one five-star online store for Indian fashion and they will do everything they can to make your shopping experience perfect!
Chiro's By Jigyasa has developed a reputation amongst customers for their fine quality sarees, lehengas, and other Indian garments, and now they are proud to be going further to help shoppers like you. With their new customer care program, Chiro's By Jigyasa has increased the number of real people they have manning their online chat and contact points, with all of their staff trained to give you detailed advice regarding fabrics, colors, sizes, and styling. Chiro's By Jigyasa is also expediting its packing and shipping fulfillment window, in order to get its pieces to your door more quickly.
Go to https://chirosbyjigyasa.com to find out more.
Chiro's By Jigyasa introduces its new customer care program in order to maintain its current five-star rating amongst shoppers. As a proudly Indian-American family-owned and run fashion operation, the retailers are committed to constantly keeping your customer experience at the front of their business model.
In developing their customer care program, Chiro's By Jigyasa has used recent positive reviews from real customers as a guide on how to improve their online shopping experience. In particular, reviewers like Sachi Batti praised "the patience" of Jigyasa's customer service team, who "even help you decide on finalizing and buying your garments by giving their expert opinion on what suits you".
As such, Chiro's By Jigyasa is extending its one-on-one online consultation services to ensure that you can navigate their site with ease and to guarantee that you find the truly perfect piece for your next Indian wedding or special occasion.
In addition to these improvements, Chiro's By Jigyasa has also added to their popular collection of high-quality, fairly priced, and intricately handcrafted embroidered and beaded sarees and their designer lehengas. These are beautiful pieces you're sure to love.
Chiro's By Jigyasa ships across the US and is standing by to assist you with any questions you may have.
A spokesperson for the online Indian-wear retailers said, "The perfect outfit is at your fingertips with just a few clicks. We have all the latest trends in Indian wedding wear and ethnic ensembles for men, women, and kids. Our garments are designed by us, so you can find something special for everyone. We are confident that our gorgeous outfits will make you fall head over heels in love right away without even trying them. We ship within 24 hours from Houston, Texas."
Chiro's By Jigyasa's customer reviews prove they are obsessed with customer care and giving you the highest quality clothing at the fairest prices.
Visit https://chirosbyjigyasa.com if you're ready to discover the Chiro's By Jigyasa difference.