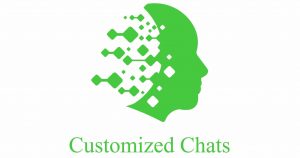 Customized Chats brings you the best way to engage with your customers at every stage of their journey without breaking a sweat. You can leave all the work to the automated chatbots and supercharge your eCommerce business using a variety of media platforms.
The Kansas-based automated marketing agency can attract new customers for its clients and generate more income from their existing customers. The agency's automated marketing assistant contacts potential customers and engages them in personalized chat dialogues to pique their interest.
Go to https://customizedchats.com to find out more!
It is no longer beneficial for a business if it merely employs one form of media. The latest update allows you to diversify your online presence to generate leads and drive sales on various platforms, including Facebook, Twitter, and Google AdWords. Customized Chats takes pride in helping you connect to a wider audience and drive more sales with its up-to-date tech solutions.
Customized Chats uses various campaign types, such as Facebook Messenger advertisements that attract prospective customers and persuade them to subscribe or buy from you. Other campaigns used include text messages to automated marketing assistants, Facebook lead capture, and virtual tell-a-friend referral campaigns that encourage advertisement via word-of-mouth and monitor the results on your behalf.
The automated marketing agency's chatbots are ideal for you if you require 24/7 support for queries or concerns. The automated assistants can also add a more personalized touch to the browsing experience and connect your customers to tailored pages to make them more likely to complete a purchase.
Customized Chats employs current methods and tools typically only available to Fortune 500 companies to bring you more results. With real-time conversion happening on an automated basis, you can increase sales for products in any niche.
About Customized Chats
Customized Chats is a modern marketing automation agency based in Overland Park, Kansas. The agency's team is dedicated to offering comprehensive services to you, and its most important job is to help you get new customers and substantially increase your revenue.
A satisfied client said: "We've always done marketing the 'old school' way. When we worked with Customized Chats, we wanted two things: new local customers and repeat customers on demand. In just under two weeks, we now have hundreds of local leads and can communicate with them across three distinct channels – Facebook, SMS, and email."
Customized Chats is a game-changer in the world of automated marketing and the agency offers examples of how its automated marketing assistant can help you get more customers and generate more income for your business. You can text the word "demo" to +1-913-285-8528 to get started with an instant demonstration of the agency's automated marketing assistant.
If you are still skeptical, visit https://customizedchats.com/demo today to know just how Customized Chats can triple the size of your business and generate more sales in a short time.