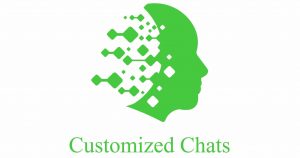 Automated chatbots are one of the best ways of growing your e-commerce business, because you can drive sales with realistic conversation - even while you're sleeping!
Customized Chats offers leading-edge automation technology as part of its audience engagement campaigns. You get a reliable way to gain new customers and generate dramatic increases in revenue.
Take your store to the next level at: https://customizedchats.com
Based in Kansas, the chatbot marketing agency understands the challenges and demands that you face in 2022. The team takes pride in helping you connect to a wider audience and drive more sales with its innovative tech solutions.
Implementing an automated chatbot allows you to improve your prospecting process and pre-qualify leads on an automated basis. You can pair your marketing assistant with Facebook, Twitter, and Google ads to engage prospects wherever they are on the web.
When visitors do land on your website, the tool can immediately activate and begin a conversation. Natural language makes prospects feel at ease, and the chatbot can even directly sell products.
With real-time conversion happening on an automated basis, you can drive more sales for products in any niche. It's ideally suited for small companies, but can also be used if you're looking to scale and grow throughout 2022 and beyond.
Chatbots are especially useful if you're in the e-commerce space because customers can receive 24/7 support for queries or concerns. It also adds a more personalized element to the browsing experience and can connect customers to tailored pages to make them more likely to complete a purchase.
One of the main advantages of the service is that it provides smaller business owners with access to tools that were previously unavailable without a big budget.
A spokesperson for the company states: "Our team is committed to providing you an amazing service. However, our most important job is to help you get new customers and substantially increase your revenue. With our modern strategies and cutting-edge tools typically only available to fortune 500 companies, we can help bring you results your competitors will be jealous over."
Are you ready to drive more sales with leading-edge technology today? Get in touch!
Check out https://customizedchats.com/demo for any extra info you need!