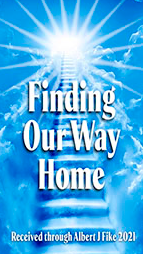 Faith is a peculiar thing. It peaks and troughs and sometimes it can feel like it's not there at all.
Want to re-establish your Christian faith but not sure how? Let Albert J Fike be your guide.
Created for people who are lacking faith and feeling lost in their lives, his latest book is titled "Finding Our Way Home". A popular release in the faith and spirituality genres, the book is part of a three-part series. It was originally published in June 2022 and is the follow-up to Fike's first book, "Our World In Transition, Messages From Jesus."
Go to https://divinelovesanctuary.com for more info.
Throughout the book, you will find Christian teachings on topics such as morality, peace, harmony and how to live a Christian life. Each chapter is based on celestial messages the author has received from Jesus and offers guidance on how you can navigate the challenges of today's world.
In particular, Fike writes about how you can reaffirm your faith, reconnect with yourself, and embrace spirituality in your day-to-day life. You are shown how to re-establish Christian morals, serve your community, and find deeper meaning and fulfilment.
In addition, the author explores why people often lose their faith and draws on teachings from the Bible to explain how you can reconnect with the divine.
You will find the book on Amazon. It is currently available in two formats: Paperback and Kindle. The book has been awarded five stars. According to reviewers, it offers spiritual wisdom and shares a message of hope for people who are struggling in life.
Explaining what the book covers, Fike says, "In our busy world, it is more difficult than ever to live a faith-based life and many people are feeling lost and confused. This book contains spiritual lessons designed to awaken our deeper selves and help us make sense of an ever-changing world. The depth of the teachings and revelations shared in this book will awaken both the mind and the soul."
About Albert J Fike
Albert J Fike is a spiritual author and the owner of Divine Love Sanctuary, a Christian mission non-profit. He is passionate about sharing the teachings of Jesus with others. In addition to being an author, he also hosts spiritual awakening retreats and produces religious videos.
Whether you're feeling lost in life or lacking faith, Fike can put you back on the right path.
Ready to reaffirm your faith? Head to https://divinelovesanctuary.com and dive into Fike's new book.