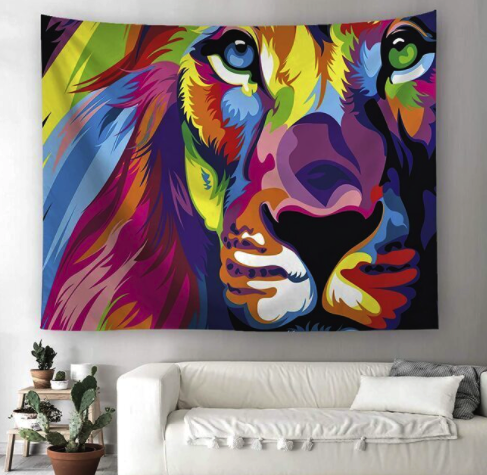 Installing wallpaper or repainting a room yourself is a daunting project. Getting it done professionally solves the problem, but it's so expensive!
When you're looking for an affordable way to upgrade a room without dealing with messy wallpaper glue and paint, look no further than Kingsy Store's tapestry collection.
Visit https://www.kingsystore.com/product/60l-x-50w-inches-colorful-lively-galaxy-lion-tapestry-fantasy-starry-nebula-wall-hanging-for-home-deco to check out which designs match your aesthetic!
The new collection of hanging wall decors is made from high-quality fabric that is soft and plush but durable. Putting them up is easy and only requires a few hooks. You won't even need to drill your wall.
The online store's recent tapestry collection can also be used as semi-blackout curtains, beach or picnic blankets, background decors for virtual meetings, and many more.
According to Kingsy Store, tapestries give you an affordable and flexible way to give any room a splash of color or vibrancy. Commissioning murals or buying framed art costs a lot and you will be stuck with that design for a long time. With tapestry, you can put up and remove the wall décor as you please.
The store's bestsellers include the Virgin Nature Scenery Forest and the Galaxy Lion Fantasy Starry Nebula. The former depicts a peaceful and calming rainforest landscape while the latter is a playful abstract artwork of a lion painted in vibrant colors.
The forest design tapestry comes in three sizes – 150x130cm, 200x150cm, and 235x180cm. The lion design, on the other hand, comes in 150x130cm only.
Kingsy Store explains that high-quality tapestries, like those found in their new collection, must be richly colored and resistant to fading. The edging on the tapestry must also be secure to prevent it from unraveling, especially when washed.
All tapestries from the online store are machine-washable. You can put them in a gentle wash cycle with cold water to preserve the fabric's texture and depth of color.
About the Company
Kingsy Store offers a wide array of quirky, unique, and useful products at low prices. They are dedicated to sourcing the most innovative merchandise from all over the world. The store offers free and fast shipping for all deliveries within the US. All payments are 100% secure and purchases come with a 30-day money-back guarantee.
"At Kingsy Store, you are guaranteed to have the coolest things without spending days researching on your own," a spokesperson said.
Start redecorating today! Visit https://www.kingsystore.com/product/virgin-nature-scenery-forest-tapestry-green-tree-in-misty-forest-wall-hanging-deco to know more.