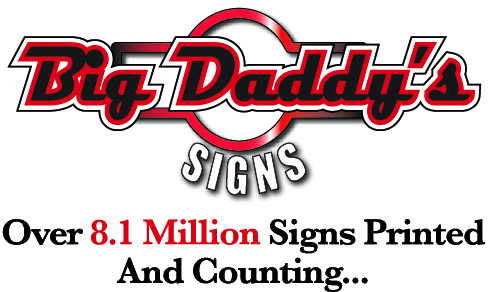 A guy in my town was recently arrested for stealing all the road signs.
They say he really pulled out all the stops.
Nothing? An eye-roll maybe? I'll take that as a sign of success. Ok, fine – I'll stop. Starting now.
For real though, if your school is in need of signs – whether because someone stole them or you just never made any – Big Daddy's Signs is the one to call!
These guys can create custom vinyl banners to help your school improve local visibility, advertise major sports events, and decorate the halls during special events and celebrations.
Check it out at https://bigdaddyssigns.com
Make sure you're ready for the new school year with a custom vinyl banner! Promote your program and get the attention of potential students in your area.
"Banners are a great way to get your message out there," said a company representative. "And now, with digital printing technology, creating a custom full-color banner is more cost-effective than ever."
Go to https://bigdaddyssigns.com/political-specials for more info.
Providing fully customizable banners, Big Daddy's Signs offers a range of unique fonts, a variety of colors, and multiple sizes ranging from 4 by 1 to 50 by 10 inches. You can use existing designs or create your own by uploading a high-quality image of the school logo, mascot, or event name. If you have no idea where to start, you can ask the company's in-house design team for advice.
Need something very specific? No problem! Whatever your project requirements, Big Daddy's Signs can get the job done. The company can create both indoor and outdoor banners – the latter being fully weather-proof. Vinyl banners can also feature images and writing on both sides. The double-sided printing is ideal if you're looking for hallway banners which need to be readable from both directions.
All banners created by Big Daddy's Signs are made with flexible and tear-resistant 13-oz glossy stock. The full-color banners also come with brass grommets to prevent damage to the vinyl.
As one of the largest online suppliers of yard, election, and traffic signs, the company offers a large selection of professionally designed templates. Big Daddy's Signs uses advanced digital printing equipment and materials that meet the highest industry standards to provide durable and attractive products. Along with banners and aluminum signs, you can order car magnets and window stickers – whatever you need, these guys have it!
Ok, last one I promise. What did the fan convention security do to the girl who pulled down all the signs?
Banner.
Phew, got that out of my system. Now go check out Big Daddy's Signs and hook yourself up with some cool school banners.
Visit https://bigdaddyssigns.com/test-signs to get yours!