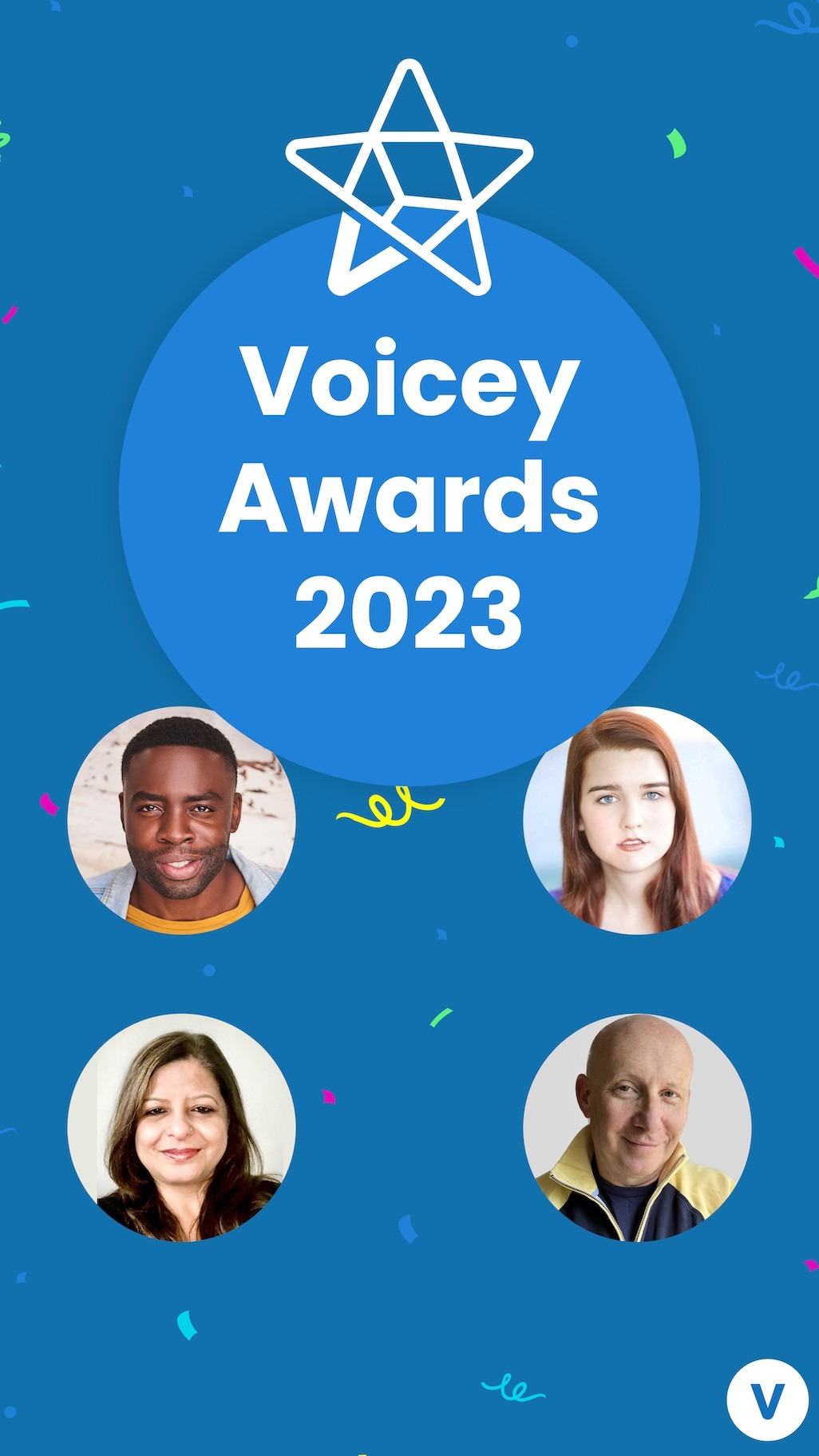 It's finally here! The winners of the 2023 Voicey awards have been announced, and the list will make you want to shout, scream, and exercise those vocal cords to celebrate the beauty of the human voice.
With over four million voice actors on the platform, the Voicey Awards is Voices' annual awards program, recognizing voice talent at the top of their game! It's THE awards for voice actors and recognizes the professionals who make other people feel heard.
Voicey Awards include the Top 5 Awards, listing rankings for the "bests'' on the platform, and thirteen Category Awards, identifying voice talent at the top of specific voice-over categories.
Go to https://www.voices.com/community/voicey-awards for the full list.
What makes the Voicey Awards so great, you may ask? Each winner is determined through an analysis of performance metrics, such as the number of jobs completed, ratings, and the number of favorites received. There are no judges or entry fees for this award, and results are objective and data-based.
There's only one way to win a Voicey: You need to be the BEST.
Voices attributes its continued success as the leading global voice marketplace to the quality of its talents. Since it was founded in 2005, it has been the primary source of professional voice actors, featuring a roster of over four million members across 160 countries.
Voices is committed to making the world a more positive and accessible place through the power of the human voice. To this end, it has made its platform easy to use for clients around the world to find the voice talent they need for their specific projects.
It's as easy as one-two-three. Simply post a job on the platform and you will be automatically recommended several voice actors who fit your requirements. Want more options? Go ahead and manually select one from the whole roster!
After comparing audition tapes and quotes, you select your chosen voice talent and work out the exact details of the project with them. All output is then uploaded on the platform for easier download. After a job is completed, you are asked for an honest review of your voice actor, which is used as a contributing factor to the annual Voicey Awards.
"Our talent community are the champions that bring our vision and our client's projects to life," says David Ciccarelli, CEO and Founder of Voices. "We know how much work it takes to succeed as a voice actor. The Voicey Awards is one of the ways we show appreciation for the dedication and skill of some of our top talent on the platform."
Who are the best voice actors of 2023? Visit https://www.voices.com/community/voicey-awards to find out!