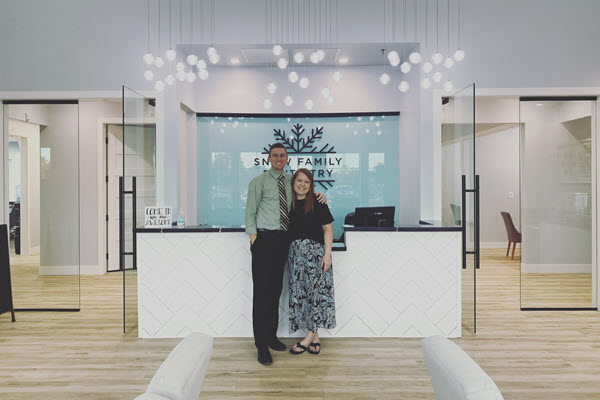 Did you know that surveys of adults in the United States have indicated that as many as one in three adults are reluctant to show their teeth when they smile?! That's pretty remarkable - and unnecessary!
This second-generation family clinic has announced that its move to a more accommodating space just across the street was spurred by the recent rise in demand for restorative dentistry services, driven by an aging population and rapid advances in technological innovation.
And those amazing advances should give you comfort. As will Dr. Snow and his team!
Snow Family Dental is now fully equipped with digital x-rays, intra-oral cameras, and 3D Cone Beam CT scanning technology - all working to make diagnoses and treatments faster, more accurate and precise, and hassle-free.
Cone beam CT scanning, for example, is an extremely advanced 3D imaging technology used to create highly detailed images of the patient's jaw and teeth. This technology helps Dr. Snow to plan and monitor restorative dental procedures, such as tooth extractions, root canals, implants, and issues relating to sleep apnea and TMJ.
As one patient recently noted: "This dental office is where you need to go; modern, clean, and new. It literally has everything."
You can learn more at https://www.snowfamilydentistry.com
Restorative dentistry is a branch of dentistry that overlaps with cosmetic dentistry and is focused on restoring the function, health, and appearance of teeth that have been damaged or lost due to decay, trauma, or disease.
Snow Family Dentistry recognizes that an aging population is leading to more people requiring dental treatments, such as bridges and crowns - as their natural teeth begin to wear down. However, the clinic focuses on preventive care - encouraging you to take better care of your teeth and seek out restorative treatments when needed.
Restorative dental treatments include procedures such as crowns, bridges, veneers, implants, and clear aligners like Invisalign, which help to straighten misaligned teeth. For example, according to a report by Zion Market Research, the Invisalign market in Arizona is anticipated to keep growing at a yearly rate of nearly 20%. That's nuts!
"What really excites us is the possibility of transforming the patient experience," explains Dr. Dallin R. Snow, D.M.D. "And that's not just about the latest technology and the extraordinary precision it allows for. We want to create a warm and inviting atmosphere, so patients actually look forward to their dentist appointments."
In this spirit, the state-of-the-art clinic offers a number of patient amenities, including a "relaxation room," complete with massage chairs, and a selection of blankets, pillows, music, and whatever else you need to feel totally at ease during your treatment.
As one patient added, rounding out the picture: "Got kids? The waiting room has a super fun kids' play area for them to enjoy while you wait."
With almost 300 5-star reviews on Google, Snow Family Dentistry really is, as the other individual said, "the place to go" in the Mesa area!
You can call 480-982-7289 or go to https://www.snowfamilydentistry.com and see the brand new, shiny office for yourself!