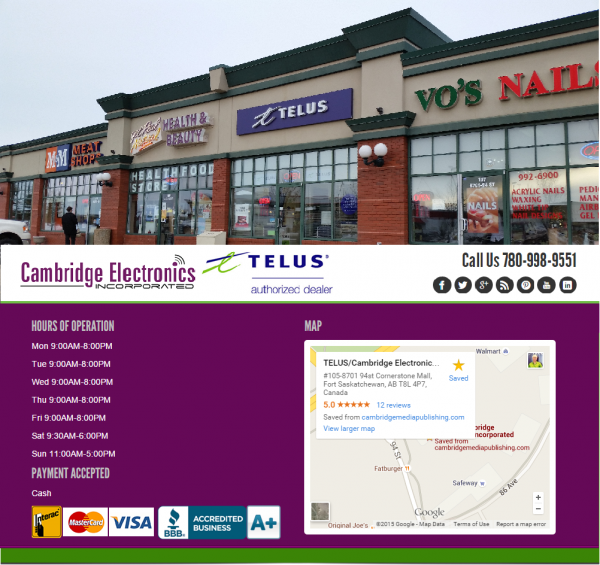 The new rural wireless internet services give you blazing fast speeds up to 1,500 Mbps, so even your most demanding business, video call, and home streaming needs are met. Check out their huge range of new and pre-owned mobile devices, so you're connected whenever and wherever you want to be.
Go to https://mobilityhelp.com for more information.
Rural communities like ours are often at a disadvantage when it comes to accessing the latest technologies and connectivity services. With the recent announcement, Cambridge Electronics and Telus Koodo provide our local area with high-speed Wi-Fi internet solutions at affordable rates.
The pandemic saw a more widespread adoption of remote working, a trend that is expected to continue well into the future. Here in Fort Saskatchewan, we stand to benefit from these new approaches, with many now considering relocation to more affordable and livable areas. However, we have some fierce competition.
As the local website fortsaskonline.com points out, internet access is high on the list of priorities for this new demographic. Helping position Fort Saskatchewan as an ideal place to relocate, Cambridge Electronics/Telus now offers a three-tiered connectivity service that meets modern demands such as video calls and multi-media streaming.
Our businesses are now offered the Telus Business Bundle, which includes office phone, office internet, and business connect with no fixed term. Plans are flexible, allowing you to choose the speed and phone services you require, leading to greater efficiencies. 
For additional information please see: https://www.facebook.com/CambridgeElectronics
About Cambridge Electronics / Telus Fort Saskatchewan
An authorized Telus & Koodo Service Provider, Cambridge Electronics combines expertise in the Telus network with a genuine passion for electronics and wireless solutions. The store is open every day of the week and offers comprehensive services to both residential and commercial clients. The latest announcement demonstrates an ongoing commitment to being the leading telecommunications provider in Fort Saskatchewan. Find out more at: https://cambridgeelectronicsinc.business.site
A store representative recently stated: "Cambridge Electronics Incorporated makes it easy to select the proper wireless device and match it up with the accessories you need, share them on social networks, integrate with web services you already use, and track your results. Think of it as your own personal communications hub."
Whether you're a home or business user, Cambridge Electronics/Telus Koodo has all your connectivity and mobile device needs covered.
See how they can help today. Click on https://stores.telus.com/telus-cambridge-electronics-incorporated-fort-saskatchewan so you can learn more.