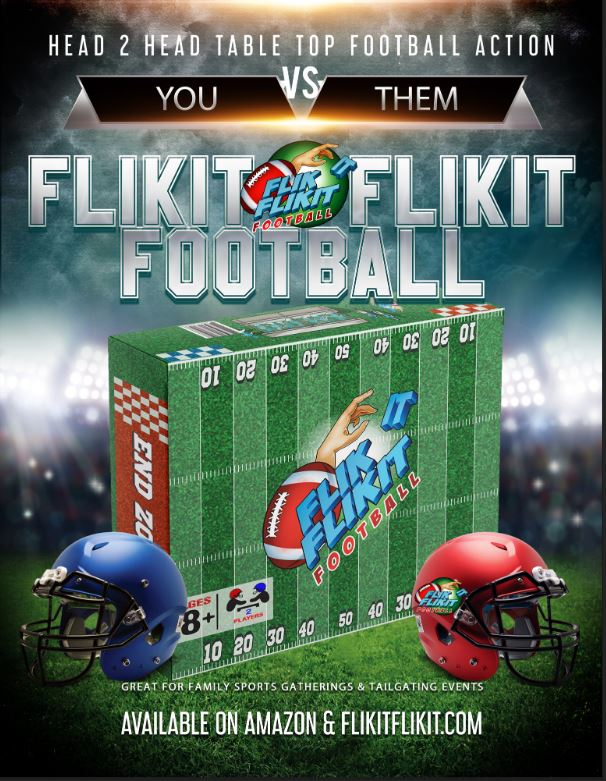 The newly launched tabletop football board game, FlikIt FlikIt Football has been a smash across platforms such as WalMart and Amazon entertaining people of all ages across the country.
I took FlikIt FlikIt Football live in January 2021, which fans and consumers within the board games, toys, party games, tailgate fun space found interesting…
The game is played on a 6-fold board that represents a football field, with durable plastic footballs in a variety of team colors. Players take turns flicking their ball, trying to land in the opponent's endzone to score touchdowns. But that's not it… Land on the MVP circle for a power-up advantage on your opponent or land the 3pt attempt to test your kicking skills. Either way, outscore your opponent for ultimate bragging rights.
Each box also includes a pad of scorecards, a self-standing goal post, MVP cards, and a variety of your favorite team balls to take home-field advantage, giving players the chance to really get into competitive nature, enhancing the game experience.
FlikIt FlikIt Football has been in development since January 2020 as it took roughly six months to design the board game and its pieces then another six to eight months to go into the printing production. Chasing his dreams, FlikIt FlikIt Football was solely thought, designed, and brought to life by Edward proving all that is needed is a dream followed by ambition.
I recreated the nostalgic childhood game of paper football in a board game format to bring back the excitement of intense, competitive, and nail-biting action. If you remember playing and trying to score as many points as you can before the school bell rang… FlikIt FlikIt Football is for YOU.
With football season here, FlikIt FlikIt allows sports fans of all ages to bond and have fun, whether at home, at parties, or at other social gatherings. The ultimate plan is for FlikIt FlikIt Football to enter into the homes of youths and adults alike to reveal the hours of intense and competitive fun it brings to the table. We hope for FlikIt to become a tailgate favorite to past time between kick-off waits/half time and ultimately become the leading game for tailgating rivalries.
A satisfied customer said: "A Must Have Game For Every Family. Literally one of the best board games I've played. Got a couple of buddies together and had a blast playing for bragging rights! Definitely worth the check out"
The release of FlikIt Flikit Football has strengthened his commitment to giving back to the community. A portion of the proceeds from the game's sales will be donated to boys' and girls' clubs across California.
Interested in becoming a Tabletop Football Legend? visit http://www.flikitflikitfootball.com
To celebrate the launch of this new, action-filled tabletop game, the founder (Edward Galloway) of FlikIt FlikIt was interviewed by a local San Diego news station. The segment is available to watch at https://www.10news.com/sdconnect/flikit-flikit-football-table-top-football-action