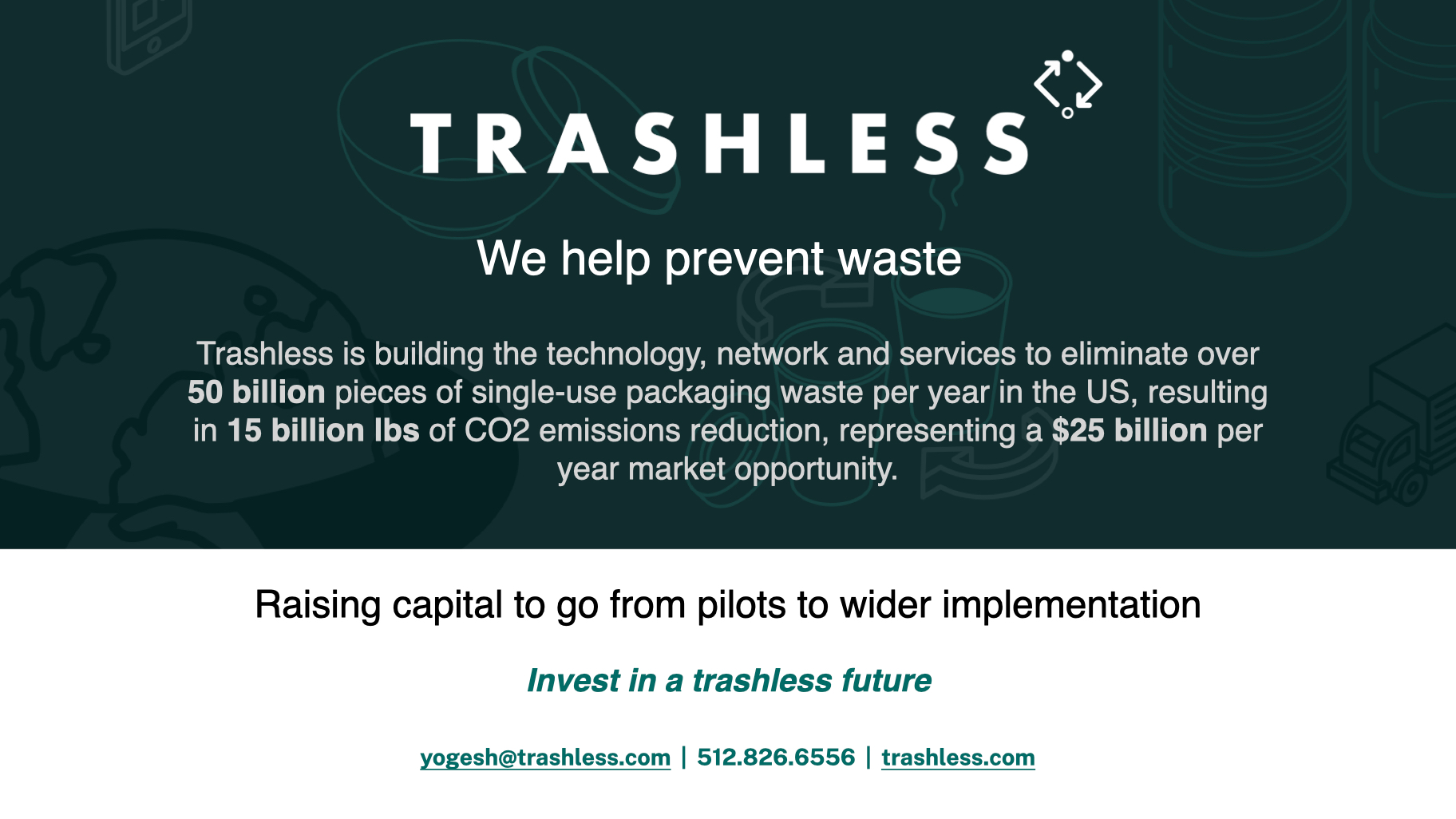 With the growing concerns about the future of our environment, you can now participate in the upside of compelling solutions towards a waste-free planet, from Trashless.
If you're a climate-impact investor or private company investor interested in backing profitable initiatives that address climate change issues, this is a great opportunity.
More details are at https://invest.trashless.com
According to the UN Environment Program, just 10% of the estimated seven billion tons of plastic generated globally has been successfully recycled. This indicates significant recycling rate inefficiency despite the increasing number of global climate change initiatives. Billions of trees are cut every year to make paper cups, delivery boxes, and other single-use items that are used just once.
Trashless' zero-waste initiative aims to prevent waste from single-use everyday essentials like disposable plastic cups and grocery packaging by replacing them with reusable packaging methods. Some of its critical programs include Trashless Grocery, Trashless Market, Trashless TakeBacks, and Lost and Found Tags.
With the funds raised from investors, the company will initiate partnerships with more retailers, shop distributors, and other related service providers and grow its marketshare.
At the foundation of Trashless' solutions is its technology platform that encompasses ecommerce, mobile apps, asset tracking, environmental impact measurement, partner management, payments, rewards, operations, logistics, communications, equity participation, and more. It makes each reusable item individually identifiable with a unique QR code - forming the core of the systems, enabling engaging experiences for all.
About the Company
Trashless uses green technology to encourage sustainable environmental practices through its zero-waste programs. Services and products developed by the start-up have covered areas like logistics, e-commerce, asset tracking, and more. The company's mobile apps allow users to measure how much waste they have helped reduce from their individual efforts.
Saving the environment is a collective responsibility for all humans. You can play your part in a meaningful way by investing in Trashless' practical solutions today.
Visit https://invest.trashless.com to find out more.