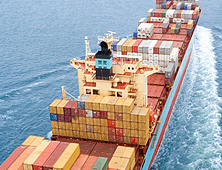 Long gone are the days of 'Rule, Britannia' and because nobody and everybody now rule the waves, ocean freight is a tricky game! Fortunately, there are standard global protocols and with the right connections and know-how, getting your goods from Bristol to Zanzibar – and the opposite – can be a breeze. Well, almost!
Anglo Freight (UK) now offers small companies and startups full-service assistance in facilitating their ocean freight import and export deliveries by both Full Container Load – FCL – and Less than Container Load – LCL. If you're a business owner, this can be a tremendous weight off your shoulders and end up saving you considerable money.
More information can be seen at https://www.anglofreight.co.uk
The company, founded in 2013, now takes care of every stage of the shipment on your behalf – from point of origin and through customs clearance to its final destination. This service is ideal if you are looking to make your initial foray into international trade. The company's services now also include airfreight, partial loads, and continental haulage.
It is estimated that between 80% to 90% of globally traded goods rely on ocean shipping. However, one study concluded that small businesses lose over twenty full 24-hour days – or 500 hours – just managing their freight shipments. Learning the terms, processes, tariffs, and regulations can be daunting for those individuals not already steeped in the terminology and culture of logistics management.
Anglo Freight acts as a third-party logistics partner – 3PL – to help ensure that you experience seamless transactions with your customer base. In effect, the company acts as your de-facto shipping department, managing the transportation of your merchandise each step of the way.
The firm's ocean freight FCL service for importers and exporters is backed by the most reputable and stable shipping lines in the industry, and supported by Anglo Freight's global network of agents and offices. This allows you to access the best contract and spot rates, depending on your requirements, for the shipment of most types of goods – excluding perishables, scrap materials, and hazardous materials.
LCL shipping is also offered if you want to ship smaller volumes and share a shipping container with another party. Anglo Freight can consolidate your cargo with shipments from other importers and exporters to provide cost savings without compromising service levels.
Additionally, the company offers FCL Priority, Freight Saver, and Deferred Service options in the event you are considering air transport. Deferred Service, especially popular with SMEs – small and medium-sized enterprises – allows your cargo to be consolidated with other goods being loaded onto the same aircraft. As with LCL ocean freight services, this option may offer you significant cost savings.
One customer commented: "Anglo Freight assisted me with the movement of materials into the Netherlands which was completely new to me and my company. Their assistance, professional manner, and can-do attitude made the whole complex process very simple and straightforward."
It is difficult to overestimate the value of this service.
Just go to https://www.anglofreight.co.uk and let your stress melt away! They're very friendly, too! Remember – this is your business, not a pet DIY project!