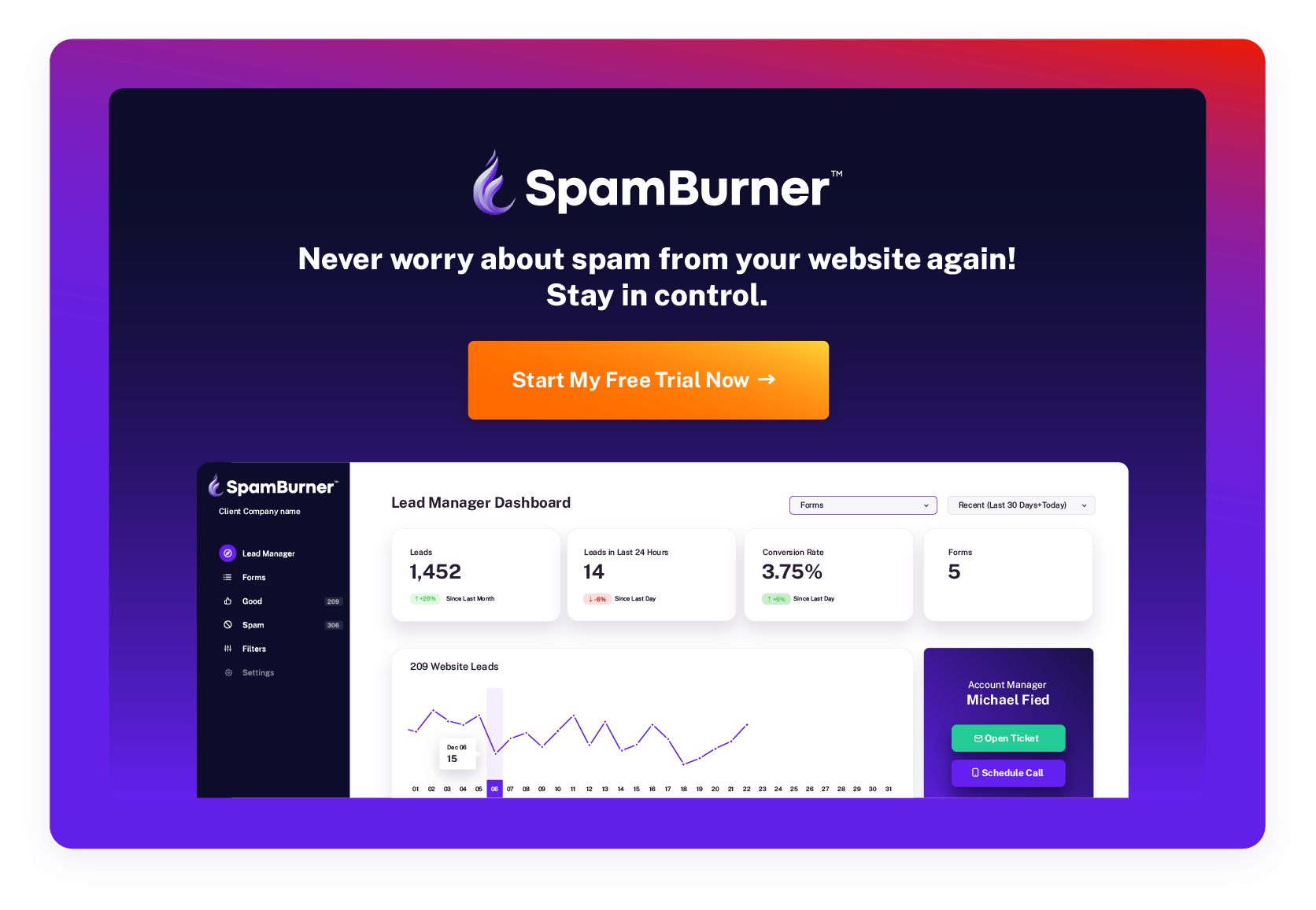 Offers to marry a Nigerian prince or inherit billions of dollars can be amusing, but they also waste your valuable time. Spam forms can also be far more sinister, containing phishing links and malware. Protect your sanity and your business with this HIPAA-compliant lead management platform.
Go to https://spamburner.com for more information.
SpamBurner.com has recognized the growing threat the malicious spam submissions pose to your business, and the company continuously updates a global directory of known spam sources. The system also works with all major business website platforms, including WordPress, Wix, Shopify, and Woo.
While website forms are a super effective way for you to generate leads, they are also vulnerable to targeting by manual spammers and spam bots. In addition to being an annoyance, spam forms can have malicious intent, containing links to phishing websites, stealing personal information from you and your clients, and even taking complete control of your website.
The simple dashboard from SpamBurner.com aims to minimize these threats, offering you rapid oversight of all your website leads, as well as allowing you to customize which leads are good or bad. The platform does not delete spam leads entirely, giving you the opportunity to review them if you really are curious about Nigerian princes.
As mentioned, SpamBurner.com maintains a continuously updated database of known spammers, including unsolicited business requests, spam bots, scams, phishers, and fake accounts. The company states that its platform successfully removes 99% of spam form submissions, with customization offering you lots more flexibility.
About SpamBurner.com
Now in use by over 24,000 businesses, SpamBurner.com continues to expand its capabilities in an effort to provide more safe and efficient spam removal solutions for your small business. The platform does not require any technical expertise, and can be connected to any website. The team includes considerable technical and sales support representatives, with system demonstrations also now available.
A company representative recently stated: "Automatically filter your website messages against our continuously updated global list of spammers. SpamBurner filters out bad leads, but doesn't delete them unless you say so. You can still see every lead from your member dashboard."
Say goodbye to spam submission forever, with the advanced lead management solutions from SpamBurner.com.
Arrange a demonstration or free trial today. Check out https://spamburner.com/the-dashboard so you can learn more.