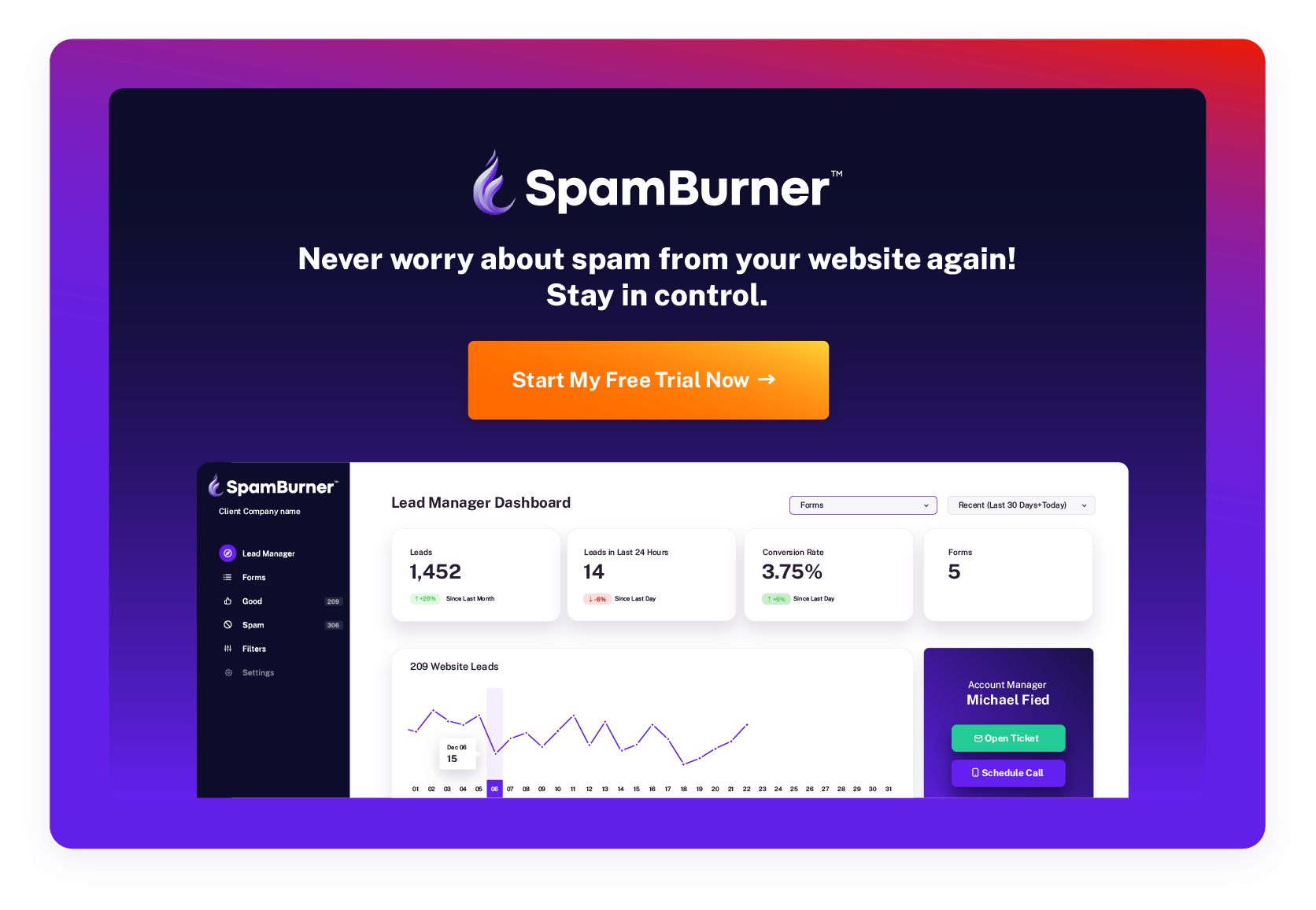 If your business website constantly receives spam from Nigerian Princes and prize-winning messages for competitions you never entered, it can stop you from seeing real-life leads and messages from prospective customers. SpamBurner.com has the solution you need with its anti-spam filter platform, which helps you improve your online customer interactions.
The system provides you with an intuitive dashboard that allows you to see the genuine leads and messages that have been sent to your website, with any spam submissions filtered out.
Visit https://spamburner.com for more information.
By providing this filtering service, the recently released platform helps you find and take action on your active leads while removing any unwanted spam from your inbox.
With a reported 43% of website submissions coming from bots and other unsolicited senders, the growth of digital spam is making it more likely for genuine messages to be missed by readers. As a business owner, this influx of spam can cause you to miss prospective leads as your customers are left waiting for a response. SpamBurner.com provides you with an efficient and streamlined spam filter system to ensure you can focus on your important messages and leads.
The platform can detect and filter out 99% of spam messages from malicious and unwanted sources such as solicitors, bots, scammers, phishers, and fakers. However, to prevent the loss of important leads and information, the system keeps all submissions to allow you to review and correct any mistakenly filtered messages.
In order to ensure you have easy access to the platform, SpamBurner.com's system offers an intuitive and easy-to-use dashboard that requires no technical skills. Furthermore, the company offers a one-time purchase that allows you access to all the platform's filtration with unlimited usage.
Alongside its filtration service, SpamBurner.com's platform also includes a lead manager dashboard, notification controls, conversion rates analysis, and CRM integration. It is also compatible with any CMS, including WordPress, GoDaddy, Wix, Squarespace, and Shopify.
The system also uses secure encryption to ensure all information gathered through the platform is both GDPR and HIPAA-compliant.
If you want to learn more about how the service can be integrated with your business, you can schedule a consultation through the company's website, where you can also see examples of the system in action.
A spokesperson for the company said, "Our out-of-the-box settings and global spammer blacklist handle 99% of all website spam, but custom filters give you maximum flexibility."
Improve your business's lead management by filtering out spam submissions to your website today!
For more information, you can visit https://spamburner.com/the-dashboard where you can schedule your consultation.