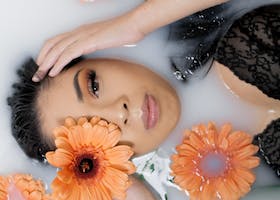 While aging is inevitable and should be desired, nothing stops you from trying to keep at bay the dreaded signs of time, especially with the efficacy of many therapies.
With Gentle Wellness Center's Morpheus8 treatment, you have access to a natural means to combat wrinkles by encouraging your skin to repair itself faster.
The treatment involves using advanced needling techniques in combination with safe radio frequencies to stimulate collagen production. Improved collagen synthetization restores your skin's elasticity, which in turn tightens your wrinkles, allowing you to achieve a smoother, more toned, and more youthful appearance.
Visit https://www.mygentlewellness.com/morpheus to learn more.
Used for treating sagging, frown lines, and fine lines around the eyes, face, neck, back, and entire body, the therapy is a non-surgical and minimally invasive way to rejuvenate your skin.
Unlike other needling therapies, Morpheus offers the most effective outcome since it can penetrate the dermis at a deeper level. As part of the treatment, tiny needles heat the skin, helping agitate your skin cells, and encouraging collagen production and its associated anti-aging benefits.
As the practice states, the therapy can be used to mold the subcutaneous fat for a longer-lasting and more defined result than other needling techniques. This makes the procedure suitable if you are looking to achieve a well-sculpted face devoid of wrinkles.
Gentle Wellness Center offers highly customizable integrated modalities that focus on the whole individual, correcting imbalances in the physical, emotional, and spiritual aspects of your health.
The practice offers a suite of other services, such as integrative and wellness medicine, therapeutic massage, acupuncture, naturopathic therapies, and IV therapies, alongside the Morpheus 8 treatment, as part of a holistic, integrative wellness package.
About Gentle Wellness Center Information
Gentle Wellness Center is a fee-for-service med spa and alternative medicine practice serving Fairfax and the surrounding areas. It provides in-person and virtual sessions, as well as complimentary consultations for clients.
"At Gentle Wellness Center, you are more than just a client seeking treatment; you are someone's family member, best friend, or co-worker. You can be confident that you will receive the best care for your condition. We will walk you through your entire treatment, so you know what to expect," a spokesperson said. "Our providers are experienced and highly recognizable, having been featured on prime-time TV programs."
Wrinkles may be the equivalent of modern-day battle scars, but being here means only one thing: you're not prepared to wear the scar just yet. There's no shame in that as Gentle Wellness Center is here to help you regain your smooth, toned skin.
Need more info? Click on https://www.mygentlewellness.com