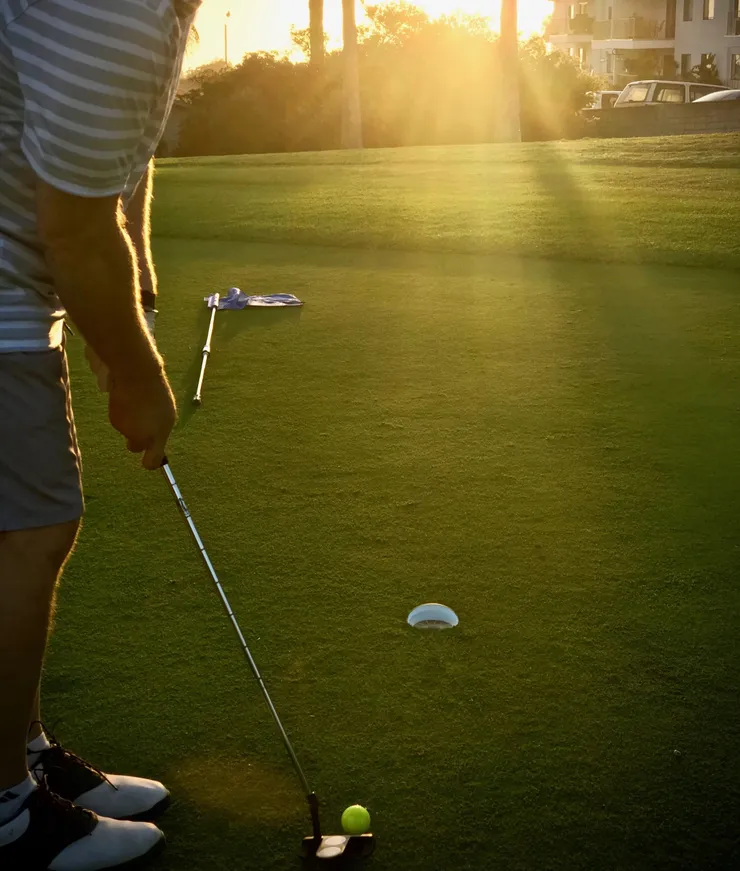 We've got an announcement to make! From here on out, our Not A Hole golf putting aid will be known as Putt Anywhere. We're making the shift because giving you the tools to putt anywhere is exactly what we do!
Going into our fourth year, we're hearing from more and more fans how much they love being able to putt anywhere with our unique products. We're on a mission to streamline our branding and meet our market with simple, straightforward authenticity.
We launched Putt Anywhere as a uniquely designed golf putting aid that creates the illusion of a real golf hole in any setting. The design is equally functional indoors or outdoors – bare floor, carpet, concrete, lawn or official putting green, etc. The targets are to be used at distances from 2-3 feet, 4-5 feet, and 6+ feet away. And golfers at every level – amateur to pro – rave about the benefits they gain from using them.
During our first presence at the PGA Show in 2018, Kim Kincer, Director of the Eastern Kentucky University PGA Program, after attending for 25 years, called our golf putting aid "one of the best, if not THE best," she had ever seen (click here

for video). John Ortega, member of the PGA and Southern California PGA Teaching Committee says Putt Anywhere empowers golfers to understand how to improve their skills on an instinctual level. "You can personalize how you use this product, which I think is excellent. There are certain parameters you can't escape. You have to align your body…your club, the swing line…blah, blah, blah. A product like this will help you find your own way to do that!" (click here for video).
With decades of experience in automotive and aerospace design, Founder Sean Halpin knew exactly what he was doing when he designed this golf putting aid. The lip is made from soft but durable Urethane, the same product in car steering wheels. The ramp is automotive grade ABS, a common thermoplastic polymer. The unique design is durable and rewards putts for both pace and accuracy.
Moving forward, the products themselves aren't changing. Packaging of existing products will retain the Not A Hole branding. Future products will reflect the name change. We look forward to empowering golfers at every level…everywhere.
Learn more here: