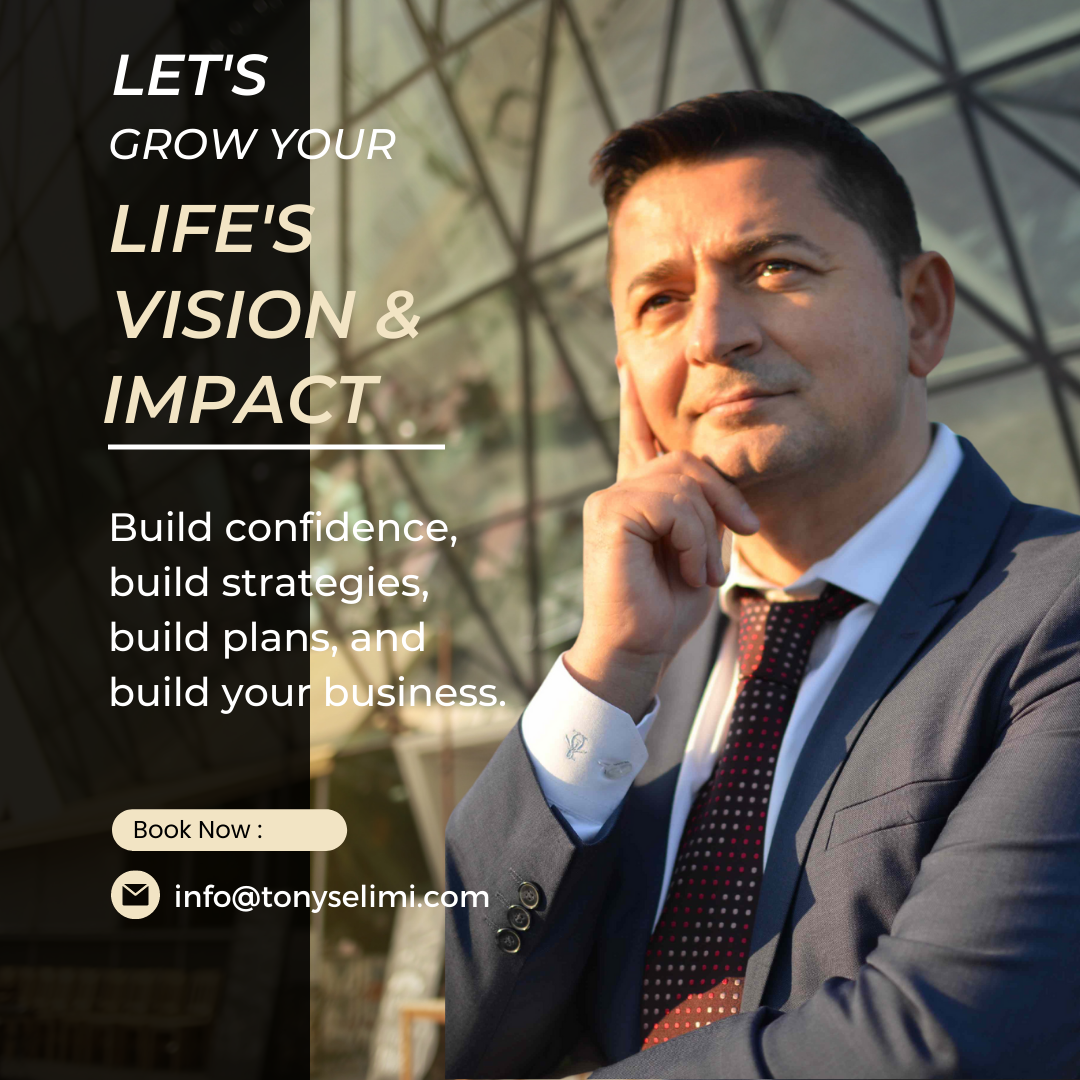 Do you see problems or opportunities for growth? With Tony J. Selimi as your business coach and accountability partner, you'll be able to overcome perceived roadblocks and take your business to great success.
Known as the See-Through Coach, the renowned life strategist will help you to find clarity and follow your mission in life and business. His new transformational coaching sessions were designed especially for business owners who want to overcome personal and professional challenges and improve their personal, team, and overall business performance, productivity, and profits.
Go to https://tonyselimi.com/services/consultations for more information.
Sessions can be delivered online, in London, where the mentor is based, or at another location of your choice anywhere in the world.
Tony J. Selimi is an award-winning speaker, author, and business coach who has delivered over 25,000 coaching and training hours and dedicated his life to studying the psychology of excellence, empowerment, and purposeful living. Having worked with senior executives of large corporations and entrepreneurs, he understands that most business leaders experience overwhelm, stress, and frustration at some point in their careers. Knowing that low motivation, burnout, and exhaustion may result in missed opportunities and poor team productivity, he developed a program that helps you align your actions and goals with your authentic values and vision to create a foundation for long-term business growth, success, and fulfillment.
Tony's integrated science-based and holistic approach to coaching will allow you to achieve positive transformations not only in business, but in all critical aspects of your life, including relationships, emotions, finances, health and well-being, and spirituality.
The proprietary principles and methods that Tony will teach you during the sessions - the TJSe Method: ALARM®, The Unfakeable Code®, and Behavioural Change Principles® - will help you to upgrade your psychology, create a growth mindset, get to the root cause of your issues, and feel confident and inspired. When applied at the organizational level, these methods can activate purpose-led transformations, create a trust-based culture, as well as improve communication, productivity, and performance.
If you are interested in Tony's coaching sessions, you can contact his team via email to book a private consultation or a business coaching session. You can also attend his mastermind retreats or book the five or ten-day private-tuition Vital Planning for Elevated Living business and self-mastery one-on-one coaching and training.
"Tony's wisdom, immense clarity, and attention to detail helped me create the processes required to move away from spending a lot of time working in the business and to freeing time by working on the business," said a satisfied client. "The result of working with Tony is increased energy, performance, communication, a proven growth plan, and value-driven business strategy."
Take the first step towards a successful, fulfilling life and business.
Go to https://tonyselimi.com/services/consultations to book a private coaching session.