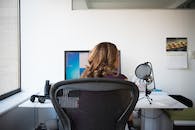 Are you slouching like the hunchback of Notre Dame while you work? Then, you're using the WRONG office chair, buddy. Switch to the Herman Miller Mirra 2, today! Your lower back, hips, and spine will thank you. Get one from Madison Seating, now!
The Mirra 2 is a high-performance ergonomic office chair designed to support your constantly changing workplace activities. It adapts to your slightest movements and offers numerous adjustments for your individualized fit and comfort.
Go to https://www.madisonseating.com/mirra-2-chair-fully-adjustable-by-herman-miller.html
Madison Seating provides you with high-quality office seating that offers back and arm support. "Mirra 2 moves with the person, at one with the body. When you sit, the seat and back adapt instantly," a Henry Miller representative says. "With dynamic surfaces that respond to your movements and intuitive adjustments to fine-tune the fit, Mirra 2 balances immediate comfort and personalized ergonomics in a sophisticated design."
The chair allows you to move freely and naturally while seated. Its flexible and supportive design utilizes the proprietary Loop Spine system. It delivers torsional flex that allows you to stretch laterally. It also offers the exclusive Harmonic Tilt that delivers smooth and balanced reclining motion.
The product uses specialized materials that act like suspension membranes. The patented Butterfly Back technology supports your whole upper body through its dynamic hybrid structure. It also uses PostureFit construction, which gives you passive sacral support that keeps your spine properly aligned when seated.
Mirra 2 offers several intuitive adjustments, such as seat height and depth modifications. Tilt tension adjustments control recline momentum, and the tilt limiter guides how far the backrest can be inclined.
Furthermore, lumbar pad positioning can be changed, and armrests may be adjusted to achieve suitable arm elevation, depth, width, and angle. The tilt angle may be modified to achieve an upright sitting position if you're into that.
Enjoy it in eight color varieties! Whatever your size and height, it's perfect for you! It can support weights of 90 to 350 pounds.
You can also choose from a variety of other seating products, such as recliners, sofas, ottomans, armless chairs, sectionals, stools, loveseats, and more.
A Madison Seating spokesperson said, "We pride ourselves on providing the right product for the right customer. Our specialty is understanding the needs of our customers and satisfying those needs while staying within our customer's budgets. We provide you with not only quality products, but also products you will love."
Working hard does not mean you have to suffer back and neck pain. Give your body some love and get a Mirra 2 office chair!
Visit https://www.madisonseating.com/mirra-2-chair-fully-adjustable-by-herman-miller.html to get yours today!