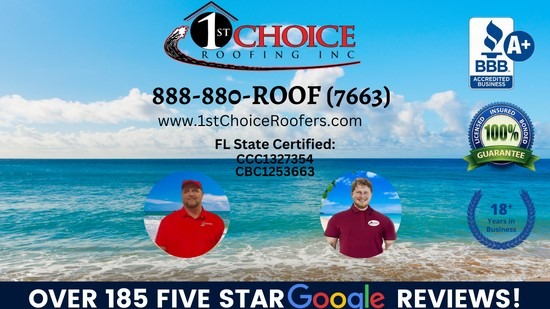 I'd tell you a joke about a roof... but it would be over your head.
It is easier to laugh at roof jokes when yours is in good condition. So if you want your roof to withstand bad weather and last as long as possible, contact 1st Choice Roofing.
Check it out at https://www.1stchoiceroofers.com
If you live in or near Port Richey, the company can help you extend the lifespan of your roof by addressing common roof issues, such as leaks, damaged shingles, debris, and shrinkage.
The roofer offers annual inspections, gutter de-clogging, soffit and fascia repairs, shingle replacements, and full roof installations. It performs ongoing maintenance as well as emergency repairs.
Its contractors can remove debris from clogged gutters, and repair any leaks, broken sections, or detached sections of gutter. They can also get rid of rotting soffit and fascia to protect your building from water intrusion.
The company can also assist you with hurricane preparation, which is absolutely essential if you're living in Florida. It weatherproofs roofs against normal wear and tear and reinforces shingles to withstand strong winds.
Moreover, 1st Choice Roofing can replace your entire roof, offering GAF or Owens Corning asphalt shingles in a wide array of styles, textures, and colors. If you are concerned about energy costs, the company also offers solar shingle options.
Further, 1st Choice Roofing installs durable and energy-efficient flat roofing products, such as membranes and liquid coatings.
You can ensure that your roof stays in peak condition by joining 1st Choice Roofing's Overhead Care Club. As long as you remain a club member, you will receive benefits such as annual roof inspections, priority treatment, lower service fees, a 10% discount on repairs, and a lifetime guarantee on roof repairs.
1st Choice Roofing is a licensed and certified Florida roofing company with over 18 years of experience. It has received over 185 Google 5-star reviews and has an A+ rating with the Better Business Bureau. Additionally, the company is an approved contractor for the My Safe Florida Grant Program. Learn more about the program by visiting https://www.1stchoiceroofers.com/my-safe-florida-home
A satisfied property owner said, "This is the best roofing company in the area. Their prices are unbeatable and their quality of work is outstanding. We had a third party inspect the roof after the work was done, and the inspector said 1st Choice did a great job. Highly recommend."
You can relax knowing you have a solid roof over your head. Call 1st Choice Roofing at 727-847-7663 or go online for a quote.
Visit https://goo.gl/maps/FehqPe4ef2i7Q5Xz6 if you need roof installations or repairs.