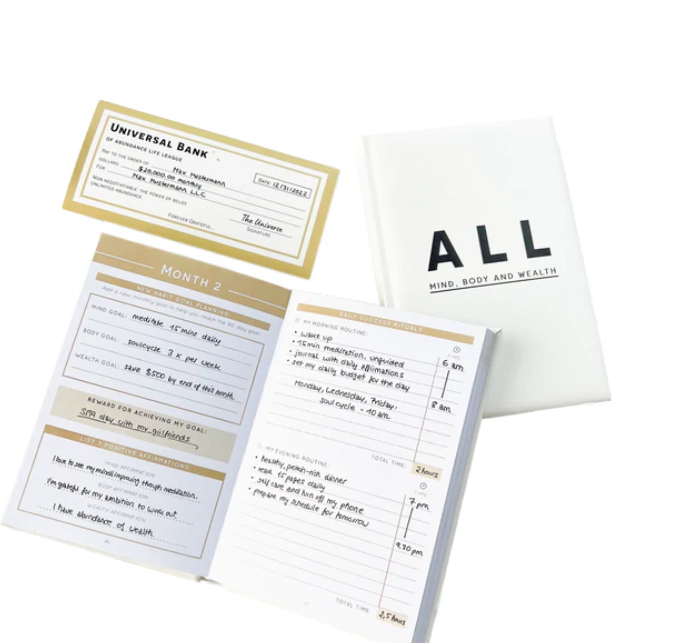 So, I've managed to stand up a date, miss a presentation deadline, and rack up thousands in credit card debt in just the past two weeks. To say that I'm a mess is an understatement. That's why I'm so grateful for Abundance Life League's Mind, Body, and Wealth Journal–it got me out of my rut and got me back to responsible adulting.
The journal has customizable undated calendars, daily writing prompts, expense trackers, and more. Authored by Founder Severine Keimig, who is also a nutritionist and personal trainer, ALL Journal offers self-improvement techniques to help you achieve a balanced life.
Go to https://abundancelifeleague.com
The journal was launched to provide you with a valuable tool to keep track of your tasks and self-care rituals efficiently. It gives you concrete and actionable steps towards achieving your short and long-term goals through daily undertakings and exercises.
Unlike traditional free-writing journals in the market, ALL Journal uses tools and prompts to help you maintain the healthy alignment of three key pillars—mind, body, and wealth—so that you can achieve a well-balanced lifestyle. The diary is structured to allow you to rein in the demands of your fast-paced life and urge you to carve out time for caring for your physical and mental health and finances regularly.
The product comprises 254 undated guided journaling pages for 90 days of self-discovery. It provides 'check-in' tools designed to calm your mind through daily positive affirmations, meditations, and gratitude practices. It offers you body transformation tasks through hydration, nutrition, and workout reminders. Similarly, it cultivates healthy wealth management by providing you with expense tracking and priority to-do list pages.
Aside from delivering an organized platform for work-life balance, the journal also offers scientific techniques proven to manage stress, reduce depression and anxiety, and boost your immune functions and sleep quality.
The diary also has 'commitment to self' pages that guide you toward self-improvement. The exercise aids you in envisioning and manifesting your 'perfect days' through positive visualization. Furthermore, it allows for achievable goal-setting through ideas generation and self-reflection pages.
A satisfied ALL Journal user said, "I have been using this journal so far for a month and it helps me hold myself accountable for my goals and desires and helps me take account of what I accomplished, what I didn't accomplish, and what I wish to accomplish on a day to day basis. Absolutely recommended because I am already seeing so much improvement. The Abundance Life League Journal is a game changer in every way of daily living for the better. I wish I found it sooner."
Be on your way to a better, more balanced you–start your journaling journey today!
Visit https://abundancelifeleague.com to purchase your journal now!