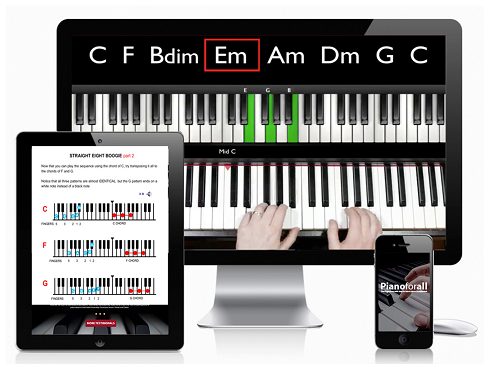 Online Piano Lessons website Pianos Rock recently published their in depth review of Pianoforall with a focus on helping beginner piano players. The aim of Pianos Rock is to provide the most relevant and useful information to beginner players, so they may buy with confidence.
Full details can be found here: https://pianosrock.com/piano-for-all-review/
While it may seem unusual to some, Pianos Rock chooses to focus on helping people looking for online piano lessons that are suitable for adult beginners more specifically, because the founder noticed a lot of people, especially older adults, looking for an easy and affordable way to learn piano online.
Many other review sites simply list the positive selling points, such as a one time payment, rather than a monthly subscription, which is great because it makes the course more affordable.
And some sites may go so far as to cover the more critical aspects as well, for example, the course has criticisms too, such as only a small amount of music theory, which lets it down a bit for those interested in learning how to read sheet music to a high level.
Pianos Rock endeavours to go one step further in its mission to provide more value to people looking for online piano lessons that are particularly suitable for adult beginners. One example of such specific advice is found below.
The Piano For All course is best suited for beginner adult students. However anyone who has basic classical training, could find it useful too. It's very different from traditional methods and teaches about how to improvise and play by ear.
Pianoforall is for anyone who just wants to learn how to play songs quickly. With a dive right in and play straight away approach. With much more emphasis on actually playing, rather than theory.
Pianos Rock got its start in 2021, founded by Debbie Lee. The idea for the site came about when the founder decided to return to her own interest in playing piano after an absence of many years.
Ever since, Pianos Rock has made a point to provide the most value and best information to people looking for online piano lessons that are suitable for adult beginners. So far this encompasses many pages of content and a new review of the Pianoforall course.
Pianos Rock's complete write up and review of Pianoforall can be found at https://pianosrock.com/piano-for-all-review/