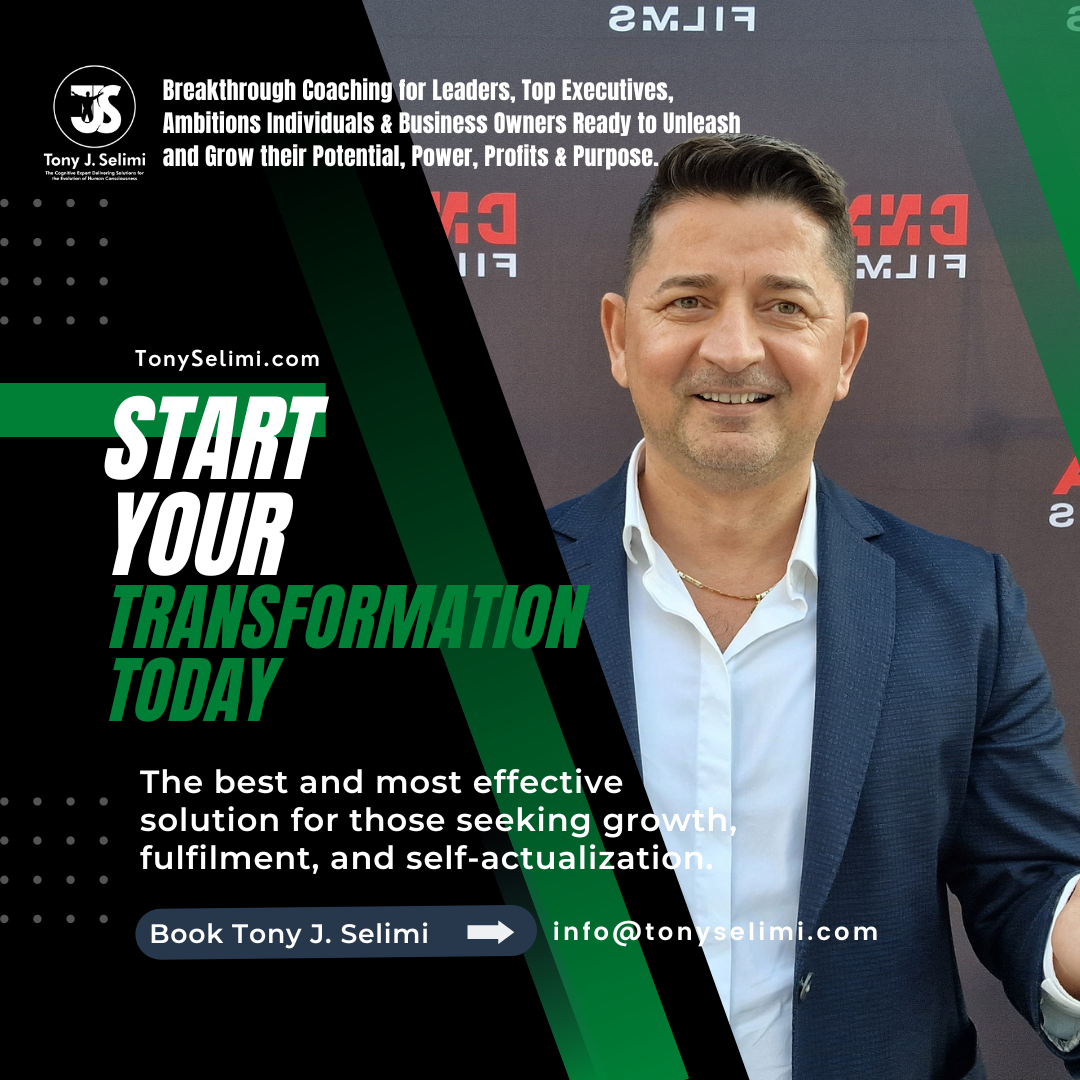 If you're a good leader who wants to be excellent in 2023, it's time to rediscover your ever-evolving purpose and identity - and embrace change.
Tony Jeton Selimi, a world-famous transformational life coach and human behavior expert, offers transformational coaching for executives and visionaries who want to get unstuck, overcome burnout and reach new heights.
If you'd like to take on more significant challenges and improve your individual and organizational performance in the New Year, he can help. Tony is renowned for his blend of scientific and holistic approaches and trademarked methodologies in human development and achieving excellence. He'll take you on a self-discovery journey that will be more difficult and inspiring than anything you've experienced.
Did you know that of the 41% of Americans who make New Year's resolutions, only 9% feel they succeeded in keeping them at the end of the year? Some of the common reasons for failure include unrealistic goals, setting too many resolutions, lack of an accountability partner, and not keeping track of progress.
Tony J. Selimi is a life strategist and performance expert who has delivered over 25,000 hours of life and business coaching and training and has worked with professionals, business owners, and corporate leaders in different sectors. He understands that as a senior executive, you are likely to face unprecedented demands on your time, stress, and uncertainty, resulting in the inability to concentrate on your goals and priorities at work and in your personal life.
Tony's integrated coaching will be tailored to your needs and combine thought-provoking conversations with practical tools and his proprietary self-mastery methods. Learning to apply these techniques in your life will empower you to become a better leader, be more productive at work and at home, and find the energy to reach your goals. You will let go of negative thinking patterns and obtain mental clarity, improved focus, and feel energized, allowing you to turn challenges into opportunities for growth.
One of the concepts you will learn is the Octagon of Excellence - the blueprint to achieving your greatest potential. You'll discover the eight essential principles of excellence that will help you go beyond perceived limits to achieve success and fulfillment.
Tony offers several tiers with various coaching arrangements, from monthly virtual or in-person sessions to intensive VIP retreats in exotic locations.
"In my Platinum coaching with Tony, I was steered towards becoming an authentic, truthful and spiritually fulfilled, and more mindful doctor," said a satisfied client. "This profound transformation within me also reached beyond my work, home, intimate life, friends, community, and society. Tony is one of those rare individuals who has tapped into his soul's wisdom and mission and is powerfully inspiring those whose life he touches. He makes the seemingly impossible possible."
Tony J. Selimi is a positive and supportive coach, mentor, and educator who will help you see through perceived obstacles and limits, uncover your authentic values, voice, and vision and find your true purpose.
Go to https://tonyselimi.com/services/coaching-packages to sign up for his coaching sessions!