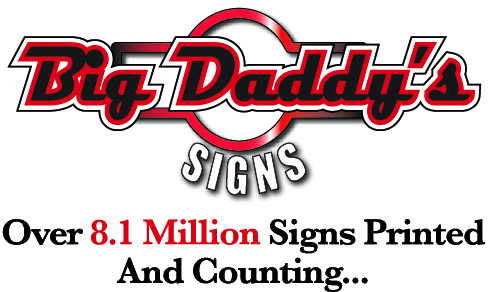 The internet is a great way to advertise, but there are other roads available to get your brand out there. For instance, those roads right outside! Put your company's image and services on car signs to transform those who don't know your business into those who are intrigued by what your team can do. Step one? Order from Big Daddy's Signs!
With vehicle magnets and other signage products available to Massachusetts business owners like you, Big Daddy's Signs is here to magnify your brand. It presents signs suited for attachment to cars and other vehicles, allowing for the mobile advertisement of your company to a wide audience on a daily basis.
Click https://bigdaddyssigns.com/vehicle-magnets/ now!
The New Hampshire-based print shop continues to build a shining reputation for high-quality products and fast shipping times. Businesses and groups across New England already point to Big Daddy's Signs as a reliable supplier of physical advertising items spanning banners and flags, specially created with industry-proven printing technology. Now you can see for yourself.
According to the Laconia sign shop, vehicle magnets are effective tools that can introduce your brand's identity to new onlookers and motorists wherever you go. Further, Big Daddy's Signs recommends such signs as a simple means of relaying information for public bodies and organizations ranging from schools to libraries and charities.
"Vehicle magnets receive hundreds of views per day," emphasizes a company spokesperson. "They are printed in full color to make the impact that you want. Car magnets have even become a simple and easy product for fundraisers, promoting awareness and school spirit."
These hi-res magnetic vehicle signs can be customized using your chosen designs, allowing you to easily showcase your brand and logo. In addition, Big Daddy's Signs offers the aid of a considerable digital library with pre-made effects and fonts. With the help of Big Daddy's Signs, the company says, you can create attractive signs that stand the test of time.
Citing Massachusetts' wet and cloudy climate in spring, Big Daddy's Signs notes that its vehicle magnets are weatherproof for maximum durability. Made with premium materials, they'll serve you as long-term advertising solutions year-round.
You can place orders for your custom signage products at Big Daddy's Signs' official website, with the company delivering to Massachusetts and beyond. At different times of the year, the supplier offers weekly specials and sign packages - go and see!
One regular customer remarked: "I always have great service. Quality of the products is outstanding, and customer service is always prompt when I have questions. They ship my orders fast. Normal prices are competitive while their sale prices usually can't be beaten."
Brady's been gone for a while, so Massachusetts motorists need something else to think about while stuck in traffic. Why not put your company logo on wheels for those drivers to notice?
Head to https://bigdaddyssigns.com/vehicle-magnets/ to learn more about Big Daddy's Signs and the vehicle magnets you need!