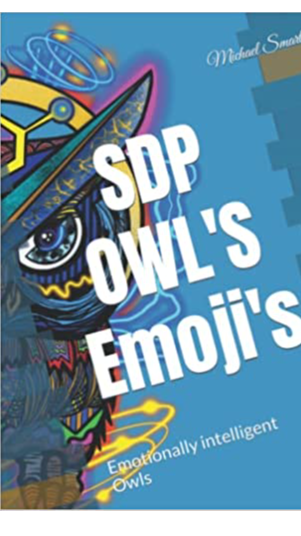 Father /CEO/Author/Web3 innovator Mike Smart is launching his brand new book, "SDP OWL'S Emoji's Emotionally Intelligent owls". The book is set to go live Nov 27th 2022, available at major book stores / through Amazon online and is expected to become a big hit with fans of the emotional intelligence, children's education, Early learning world.
More information on the book can be found here: https://smartdigitalpayments.com
This is the first book Smart has authored. The book was written with the aim in mind to begin the process of developing strong EQ in early childhood in order to empower children to hold a positive mental attitude and learn how to navigate some of life's biggest emotional hurdles. There's also particular excitement about this launch because it will be the author's much anticipated first release modeled after widely known NFT project 'SDP OWLS'.
SDP OWL'S Emoji's Emotionally intelligent owls sets its main focus on explaining complex emotions in a fun, concise and easy digestible content. Readers will likely find a particular interest in the cute artwork and heart felt messages of emotional empowerment. The book's cover art was created by Gab$tract /Ajay Toons/ Hardy Pooder/ and SDP OWL'S Emoji's Emotionally intelligent owls is being released by Smart Digital Payments.
Mike Smart has a background in web3, marketing, personal development, parenting. This helped shaped the creation of the book by inspiring them to help more of the world understand how to manage emotions in a healthy manner in order to establish healthy patterns early on, as apposed to trying to fix a broken society.
When asked about why they wrote the book, Smart said: ""The book was written during an exercise with my 2 daughters with whom I homeschool. It was interesting, being tasked with explaining to my children how to explain their emotions to other children within the construct of a one/two sentence rhyme scheme. Surprisingly it was a huge success. I already had the art to go with the content so it felt like a no brainer to publish it as a children's book"
Smart has hopes that the book will become the first of a line of books that teach a new generation how to process their emotions and communicate effectively and create many happy memories for parents and children as they share the book together. This positive outlook from the author is certainly a testament to their optimism considering some of the mishaps during it's creation. At one point the internet went out during publishing after hours of editing and they almost had to start over.
In a recent interview, the author made a point of thanking Abbigail & Zoe, his daughters for their part in the creation of the book, saying: "Thank you for being such wonderful inspirations to me, you constantly show me the way to becoming a better man. Our journey together these past years have helped shape who I am today and it brings me great pride to be your father and teacher. Great job at coming up with such wonderful ideas and sitting through such an advanced learning project."
Those interested in learning more about the book can visit here: https://smartdigitalpayments.com