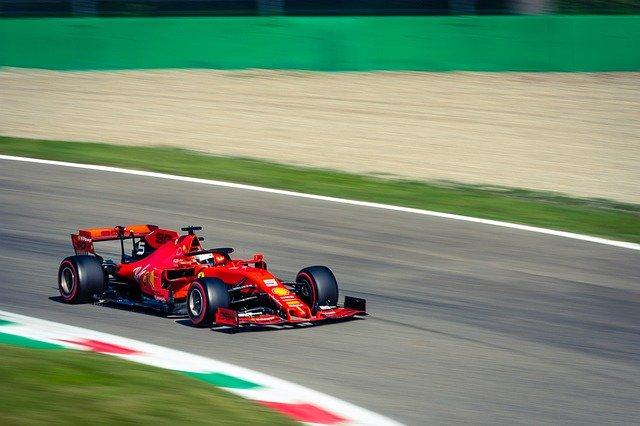 If you're a Formula One fan that's noticed a huge increase in cryptocurrency deals being struck in the paddock, you are not imagining things. These days, crypto exchange companies and blockchain logos are all over F1 cars, driver uniforms, and helmets, and for good reason!
Crypto companies look for global exposure opportunities that deliver everything a cool, modern, affluent brand wants to convey, without saying a word. With its historic glamor, loyal audiences, and high-speed excitement, Formula One is the perfect "vehicle" for the job.
A new report on crypto sponsorships in the world of F1 racing was just released by the news team at Chiliz News, and you won't believe who's with what.
Titled "F1 Teams Blockchain Partners List | NFTs, Fan Tokens, Cryptocurrency Sponsors & Exchange Platforms," the guide explains that the popularity of cryptocurrency sponsorships can be seen in recent naming rights changes reflected by the new Crypto.com Arena that used to be known as the Staples Center in Los Angeles and the FTX Arena, once the American Airlines Arena in Miami.
When it comes to crypto sponsorships in Formula 1, Chiliz News says the number of teams with crypto or blockchain sponsorships now outnumber those without by eight to two.
You can find the whole list and extra partnership info at https://chiliznews.com/f1-teams-blockchain-partners-list-nfts-fan-tokens-cryptocurrency-sponsors-exchange-platforms
With 80% of 2022 F1 teams in the world championships now sponsored by crypto, it's clear both sectors understand the value of these partnerships. From cryptocurrency exchange platforms to blockchain tech firms, Chiliz News tells you which Formula 1 teams are under new sponsorship and even gives you some insight into team and company goals and reactions.
If you'd call yourself an NFT and crypto enthusiast, Chiliz News is here to give you the latest in sports tokens developments. Their new guide lists all the sponsors, deal date announcements, crypto business types, website links, and even quotes from key partnership players.
You might remember that in 2021 Aston Martin Aramco Cognizant F1 team and Crypto.com partnered for an NFT drop that gave Crypto.com a huge boost in popularity. This year's NFT release celebrated the launch of the team's Grand Prix race car, the AMR22.
The Aston Martin/Crypto.com sponsorship deal was announced in March 2021 and was described by Aston Martin Team Chairman Lawrence Stroll as an indication that the partnership will bring a fresh perspective to both businesses. He says the deal strikes a beautiful balance between the pride Aston Martin has in their heritage and their modern reputation as an innovative leader.
Others on the list of crypto sponsored F1 teams include Ferrari, backed by Velas blockchain tech company; Red Bull, sponsored by exchange platform ByBit; Mercedes, sponsored by exchange platform FTX; McLaren, sponsored by Tezos, a blockchain tech company; Alfa Romeo, sponsored by cryptocurrency Floki; BWT Alpine, sponsored by exchange platform Binance; and Alphatauri, sponsored by blockchain tech company Fantom.
Chiliz News recognizes there is increasing demand for quality information about the role cryptocurrency, crypto exchange platforms, and blockchain technologies are playing in today's sports and Formula 1 sectors and they're here to provide you with all the insights from verified sources on the latest NFTs and Fan Token updates.
With the release of their recent guide, Chiliz News says you can bet partnerships between the wide world of sports and the world wide web are only growing stronger.
Are you ready to learn more about the shift into crypto? Visit https://chiliznews.com and gear up.
Disclaimer: The information provided on this page does not constitute investment advice, financial advice, trading advice, or any other sort of advice and it should not be treated as such. This content is the opinion of a third party and this site does not recommend that any specific cryptocurrency should be bought, sold, or held, or that any crypto investment should be made. The Crypto market is high risk, with high-risk and unproven projects. Readers should do their own research and consult a professional financial advisor before making any investment decisions.