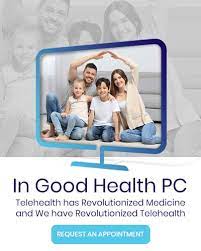 Are you tired of feeling like you're stuck in a never-ending cycle of post-COVID symptoms?
Thomas Sharon, DNP, MPH, ARNP-BC of In Good Health Professional Corporation can help you take back control of your health and get the relief you deserve.
The North Las Vegas-based primary care clinic offers virtual AI-assisted vital sign monitoring to provide prompt medical interventions that address the early onset of your symptoms and prevent possible cytokine storms (overwhelming inflammation).
Visit https://ingoodhealthpc.com/ to learn more.
Dr. Sharon explains that long COVID or post-COVID conditions are an ongoing health problem in which you may continue to feel sick even after recovering from your initial infection.
Symptoms can last weeks, months, or years, and range from fever, headaches, and cognitive impairments to cardiovascular difficulties, debilitating fatigue, and dyspnea.
When left untreated, these symptoms can develop into secondary conditions that could have severe or even fatal consequences, which is why the doctor takes a proactive approach to long COVID treatment.
Using its AI software, In Good Health PC will track your vitals, heart rate, cardiac function, stress level, and sleep quality. This data is analyzed in real-time to detect anomalies, offer remedies, or determine whether an in-person visit is needed.
In addition to AI monitoring, Dr. Sharon may also order a series of blood tests as part of the diagnostic process to better understand your condition and the underlying cause of the ailment.
About In Good Health PC
In Good Health Professional Corporation is a North Las Vegas-based primary care clinic serving the entire metro area, including Summerlin South, Paradise, and Henderson. As a certified nurse practitioner, Dr. Thomas Sharon specializes in adult and geriatric care and has treated over 6,000 patients in need of long COVID treatment.
A satisfied patient said: "Dr. Sharon is an excellent and kind guy. The doctor showed he cared about my situation and how I was feeling. He was awesome with figuring out the best treatment and ensuring I was comfortable with everything. His secretary was also pleasantly nice. Great practice, great people."
Don't suffer in silence - let the team at In Good Health PC use their AI software and proactive long COVID treatments to get you back to feeling like yourself again.
Need additional information? Click on https://ingoodhealthpc.com/