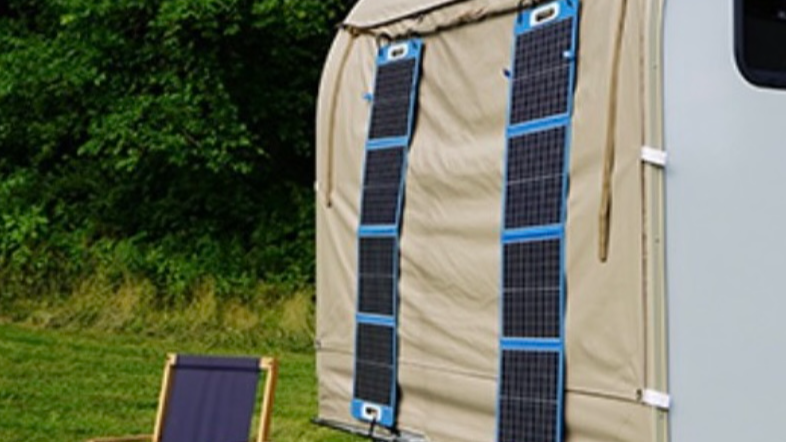 Looking for ways to make your camping trips more environmentally friendly? Check out the amazing Camp365 solar-powered travel trailer from GoSun and AWOL Outdoors Inc.! Invest in the future of the planet!
GoSun is offering potential investors the opportunity to be part of this innovative project. Do you want to invest in the future of the planet and get an amazing state-of-the-art trailer too?
The company has a proven track record of success and sustained growth, generating over $5.87 million in 2021 alone. The Camp365 solar travel trailer represents another step forward for practical climate technology that meets the needs of consumers.
Reduce your carbon footprint and take the hassle out of outdoor adventuring with GoSun and AWOL Outdoors Inc.! More details at https://gosun.co
The Camp365 trailer offers you a convenient, lightweight, and aerodynamic solution to generating clean power while on the move. The trailer can be towed by virtually any type of vehicle including small cars and electric models while its minimal footprint when folded down makes it super easy to park.
With fossil fuel prices continuing to rise and the effects of climate change being felt with ever-increasing intensity on American shores through extreme weather events, the move towards renewable energy is both necessary and inevitable. GoSun's pioneering innovations in the clean energy space have already been featured on high-authority websites and tv channels such as Forbes, BBC, National Geographic, and Fortune.
You can unfold the Camp365 RV and set it up by yourself in less than ten minutes. The unit expands to form a 100-square-foot cabin that stands seven feet, six inches tall. This roomy cabin provides you with a comfortable and versatile space for outdoor fun.
The trailer comes with the full GoSun range of solar appliances. These include a Fusion cooker, a 40-liter refrigerator, an off-grid power generator, a sink, and a hot shower. With cleverly-designed indoor and outdoor spaces, Camp365 adds some luxury to your normal camping experience.
Other features include the GoSun Flow water purification system. This can filter and purify water from a range of outdoor sources like lakes, rivers, and streams. The system works seamlessly with the RV's collapsible sink unit while the trailer gives you an amazing 24 gallons of water storage.
A spokesperson says, "GoSun has empowered a large, engaged audience who've supported nine successful product launches, putting the company in the top one percent of all crowdfunding innovators. By focusing on real customer's needs, GoSun has grown a lovable and valuable brand identity with a wide customer base."
Interested? Find out more here: https://www.startengine.com/offering/gosun?gclid=Cj0KCQiAsoycBhC6ARIsAPPbeLt653ABzGS6-0XYx63k9pVrNB5LRgHGa33wi6rZK_Vk72z6HZPFcAEaAhfhEALw_wcB
Turn up the sunshine and build a more sustainable future for you and your family. Get onboard with GoSun and AWOL Outdoors Inc.'s Camp365 solar trailer!