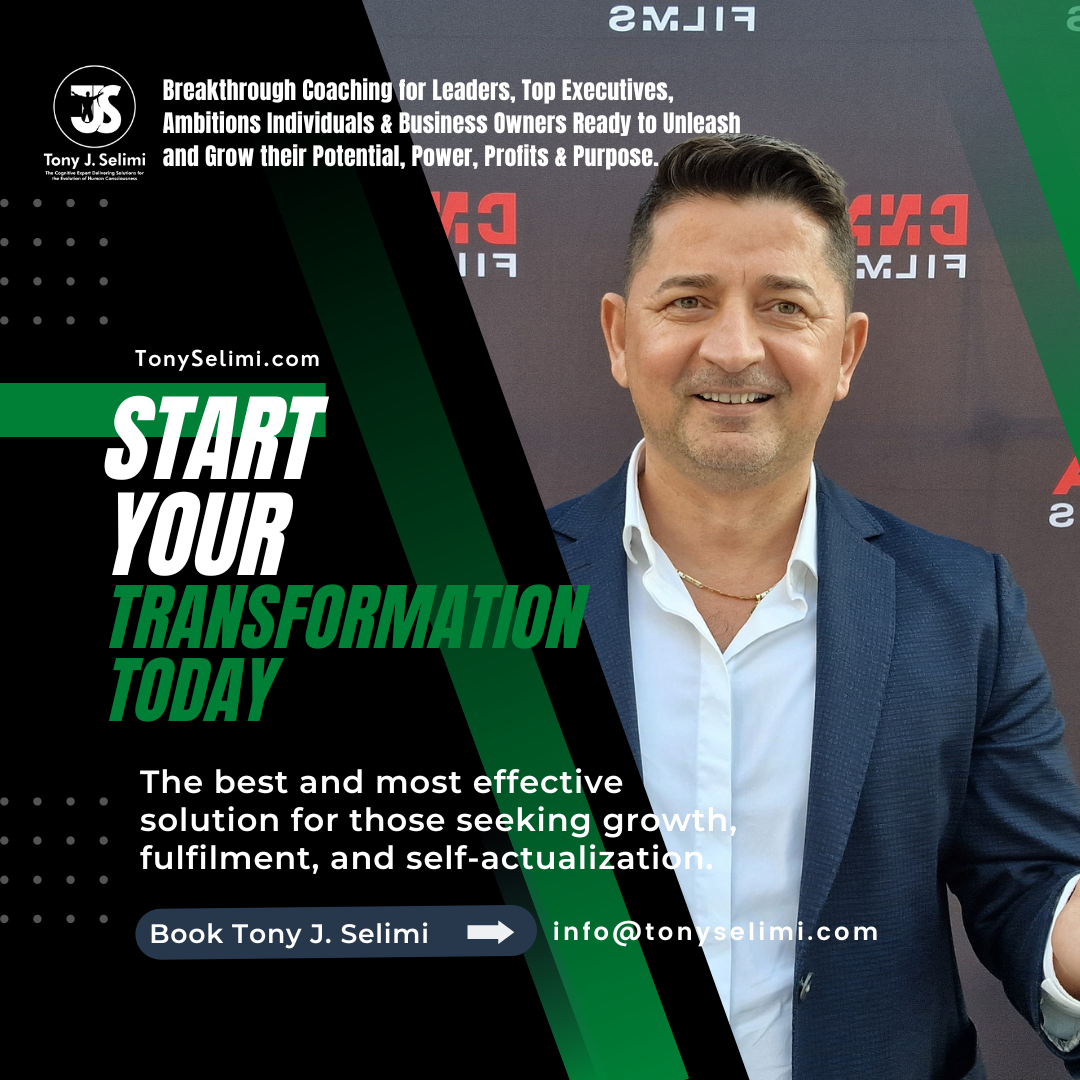 With all the responsibilities you face as a senior executive, entrepreneur, business owner, or leader, you're at a high risk of burnout. Suppose you've noticed that your energy, performance, and productivity have decreased. In that case, you have trouble concentrating and constantly feel exhausted, and getting out of bed every morning is a challenge; it's time to get help.
Meet Tony Jeton Selimi, an award-winning and world-famous life strategist and business coach specializing in maximizing human performance, power, and potential.
His new Elevated Being, Living, Leading, and Loving integrated coaching packages are custom designed to fit client-specific needs. It helps you be more effective in the role and balance other areas of your life to live more meaningfully, purposefully, and authentically. You'll be able to gain clarity of thought, align your goals with your authentic values and soul-driven vision and mission in life, and overcome adversity to achieve breakthroughs and results.
As a person with a corporate background and extensive experience coaching entrepreneurs, 6 to 9-figure business owners, celebrities, leaders, CEOs, and senior executives, Tony J. Selimi understands the stress of being a decision-maker at the top of the corporate ladder. He created his new coaching program to address the problems many company leaders encounter, including self-doubt, reduced productivity, the inability to focus, lack of energy, low self-worth, and burnout.
In his coaching sessions, Tony creates an empowering learning and healing space where you can explore the events, the associated emotions, and inner barriers that stop you from achieving your full potential at work and in your personal life. Through meaningful and inspiring conversations with the globally known life strategist, you'll be able to clear your mind, focus on your long-term vision, and regain confidence. This is particularly important in times of uncertainty, transition, change, and disruption, when you are responsible for making difficult strategic choices and decisions.
"Embarking on any of Tony J. Selimi's integrated coaching programs introduces you to the most powerful methodologies and principles concerning maximizing human awareness and potential," said a representative for the coach. "You learn simple and time-proven solutions to overcome whatever is currently holding you back from living your highest vision."
Tony J. Selimi offers different coaching packages, with weekly or monthly sessions and intensive VIP total life transformation retreat available for booking, during which you can relax and reboot from work and personal responsibilities. Contact Tony's team to help you decide which package best suits your goals and lifestyle.
"It is a privilege to work with Tony in all of the eight key areas of life to help me unleash my inner genius," said a satisfied client. "If you are serious about transformation and change, the TJS Method: ALARM™®, Behavioural Change Principles®, The Unfakeable Code® Principles he uses is tested and will serve you for a lifetime. Do yourself a favor and start your journey with someone you can trust; this man's life, methods, and journey are awe-inspiring."
Amazing transformations and breakthroughs are only a click away. Get started on a path to a more rewarding career and purposeful life with Tony J. Selimi.
Go to https://tonyselimi.com/services/coaching-packages to sign up.